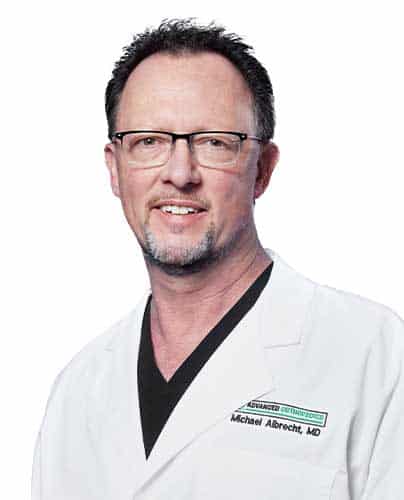 We are here for you
Book appointment
Mark T. Malone, M.D., is a Board Certified pain specialist and a native Texan. He received his undergraduate degree from the University of Texas at Austin, and went on to attend the University of Texas Southwestern Medical School. Dr. Malone attended Baylor College of Medicine for residency and training in anesthesiology, and then completed a pain management fellowship at Texas Orthopedic Hospital in 1998. Prior to founding Advanced Pain Care in 2002, Dr. Malone was a member of an Austin-based group practice for twelve years, and a clinical instructor at Baylor College of Medicine for six years. He is double board-certified in anesthesiology and pain management by the American Board of Anesthesiology, with a sub-specialty in pain management; this is the only board certification for pain management endorsed by the American Board of Medical Specialties. In 2017 Dr. Malone was appointed Clinical Assistant Professor of Surgery and Perioperative Care at UT Dell Medical School. <br> Dr. Malone is a member of the American Medical Association, the American Society of Anesthesiologists, the International Spinal Intervention Society, the American Society of Interventional Pain Physicians, and the Travis County Medical Society. He has successfully treated thousands of patients suffering from acute and chronic pain. He and his wife, Tracy, live in Austin with their three children. In his spare time, he enjoys water-skiing, cycling, and travel.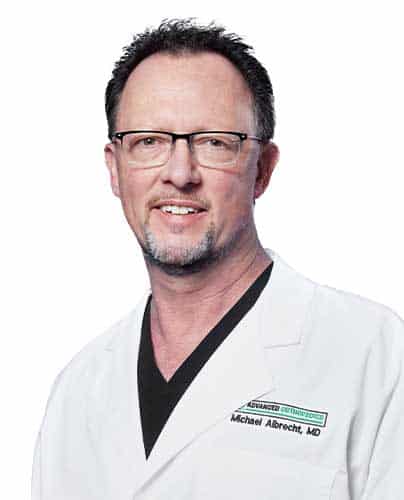 Michael Albrecht, M.P. Aff, M.D., is a Board Certified Orthopedic Surgeon. Dr. Albrecht has particular expertise in shoulder and knee conditions and is a Board Certified Orthopedic Sports Medicine Sub-specialist who is an advisor, consultant, and instructor in the latest and most advanced arthroscopic knowledge, innovation, skills, and techniques. Dr. Albrecht has practiced in Austin, Texas since 1999, currently with ADVANCED Orthopedics. He has extensive expertise in the evaluation and treatment of sports, work-related, and other traumatic injuries as well as common degenerative conditions. He employs state-of-the-art arthroscopic surgical techniques, robot-assisted joint replacement, and orthobiologics. He believes no musculoskeletal injury or condition exists in isolation,seeking the overall best treatment plan for every individual patient.
Dr. Albrecht has impressive breadth and depth of experience in Worker's Compensation, with many of his patients being injured workers. Dr. Albrecht has experience as a Designated Doctor, as well as a peer and utilization reviewer. Dr. Albrecht has served as Associate Medical Director at Texas Mutual Insurance Company, the largest Worker's Compensation insurance carrier in Texas. He is founder and CEO of Medical Decision Review Experts, P.A., a company that provides expert opinion services, peer reviews, independent medical examinations, and utilization review oversight. Dr. Albrecht has extensive experience in determining Causation and Extent of Injury, as well as estimating costs associated with medical treatment, and is frequently asked to provide expert opinions. Dr. Albrecht has substantial experience in the evaluation of and recommendations for spine and extremity conditions and injuries.
Dr. Albrecht earned several degrees, including Bachelor of Arts in Biological Sciences from the University of Texas at Austin; Master of Public Affairs from the LBJ School of Public Affairs at the University of Texas; and Doctor of Medicine at the University of Texas Health Science Center at San Antonio. Dr. Albrecht completed Orthopedic Surgery Residency at the University of Kansas School of Medicine at Wichita, Kansas. Dr. Albrecht has been certified by the American Board of Orthopedic Surgery since 2001 and was re-certified in 2011, as well as obtaining a Sub-specialty Certificate in Orthopedic Sports Medicine in 2011. Dr. Albrecht completes Designated Doctor recertification training every two years, as required by the Texas Department of Insurance, the most recent in November 2019. Dr. Albrecht has served on the Governing Boards of several local healthcare facilities.
Dr. Albrecht grew up in New Braunfels, Texas. Military aircraft from San Antonio air bases flew over his home every day, but his dream of being a pilot changed to becoming a doctor when encouraged by his high school biology teacher. His grandfather was a Texas Game Warden, so Dr. Albrecht is strongly committed to preserving Texas' natural resources. Dr. Albrecht an avid hunter and angler. He is a strong supporter of first responders and the United States Armed Forces.