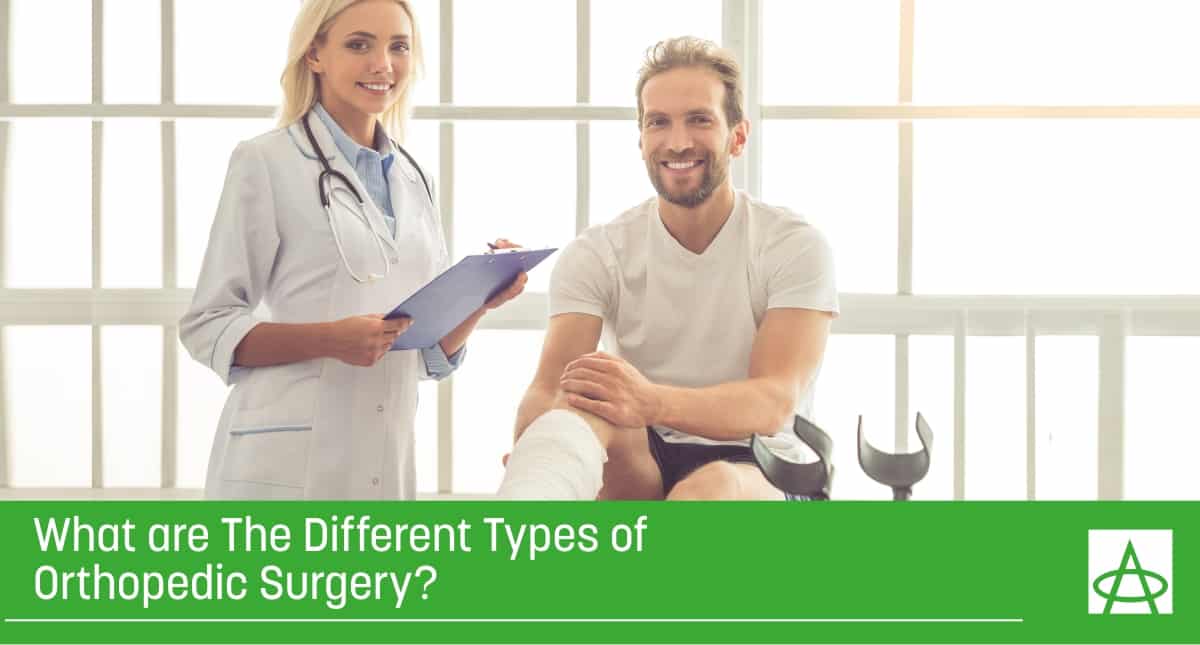 What are The Different Types of Orthopedic Surgery?
The persistent pain in bones, joints, ligaments, tendons, and/or muscles can seriously disrupt the everyday movements of the body. As these parts make up the musculoskeletal system, the problems related to them require a special branch of medicine, called orthopedics.
An orthopedist or orthopedic surgeon is a doctor specializing in this field. Some may be general orthopedic doctors who can diagnose and treat all types of orthopedic conditions but usually, there are specialties based on different types of body parts – hand, foot, knee, etc.
An orthopedic surgeon diagnoses your joint/bone problems and suggests the ideal surgical or non-surgical orthopedic treatment. You may need to see one if you experience any of the following:
Chronic pain in joints (knee, wrist, shoulder, etc.)
Limited range of motion
Difficulty in standing and walking
Inflammation experienced in one or more joints
Struggle in performing daily activities
Common Body Regions Requiring Orthopedic Surgery
Major parts of the body common in orthopedic surgery are:
Wrist/Hand/ Elbow – These areas can experience numerous orthopedic problems such as tendonitis, ganglion cysts, tendon tears, carpal tunnel syndrome arthritis, dislocations, epicondylitis, trigger finger, etc. Their treatment includes carpal tunnel surgery, ganglion cyst treatment, hand/finger joint replacements, and so forth.
Ankle/Foot – Some of the common musculoskeletal disorders in the ankle, foot, or heel include sesamoiditis, hammer toe, tarsal tunnel syndrome, foot and ankle deformities, heel cord tendonitis, etc. They may be treated through ankle arthritis/fracture treatment, heel cord tendonitis treatment, bunion correction, and other such surgeries.
Knees – Orthopedic conditions in knees range from minor to severe like tumors, osteoarthritis, tendon injuries, bursitis, meniscus, and so on. Your surgeon may consider some advanced orthopedics options for these problems – CL surgery, knee arthroscopy, ligament reconstruction, total joint/knee replacement, etc.
Spine/Back – The backbone or spine may experience chronic pain because of a bone deformity or damage. Some of the common problems associated with this are – cervical degenerative disc disease, degenerative spondylolisthesis, lumbar stenosis, and so forth. These conditions can be treated through discectomy, laminectomy, spinal fusion, etc.
Shoulder – Orthopedists deal with a variety of shoulder problems such as dislocations, rotator cuff tears, frozen shoulders, fractures, etc. The surgical treatment for them includes repair of the rotator cuff tendon, shoulder arthroscopy & debridement, shoulder replacements, and so on.
Different Types of Orthopedic Surgeries
There are hundreds of types of musculoskeletal surgeries, some of the most common being:
Knee Replacements – This surgical reconstruction involves the replacement of the degenerated joints in the knees with prosthetics that mimic the functioning of the natural joints. Depending on the condition, your surgeon may recommend either a partial knee replacement (replacing one side of the knee) or a total knee replacement (replacing the entire knee joint). This surgery can relieve pain caused by the damaged cartilage in the joint and is expected to last at least 15 years. The recovery period for these surgeries can take upwards of three to six weeks.
ACL Surgery – The Anterior Cruciate Ligament (ACL) is an integral part of the knee that helps in its flexible rotation. It is located diagonally across the front and requires reconstructive surgery when it gets injured or torn. It involves transplanting a part of a tendon from elsewhere in the body onto the affected or damaged region of the ACL. As this is usually a minor surgery, the patient can return home the same day. Most commonly, full recovery is achieved in four to six months.
Hip Replacements – When the cartilage in the hip region is damaged or wears over time, it requires surgical intervention to relieve the patient from pain and recover the normal movements of the body (standing, walking, etc.). Like knee replacement surgery, it also includes partial (Birmingham Hip Resurfacing) or total replacement. The procedure involves removing the damaged part of the hip joint and replacing it with a prosthetic made of metal, ceramic or hard plastic. The recuperation period is usually between two to four weeks.
Shoulder Replacements – Damage to the ball-and-socket joint in the shoulder can cause severe pain, weakness and stiffness. Also known as shoulder arthroplasty, this surgery removes the impaired parts of the bone, replacing them with metal and plastic implants. Shoulder replacement can be partial or total – using either the anatomic or the reverse implantation. The average recovery time for this operation is three to six months.
Arthroscopy – This procedure is performed for orthopedic pain management of the knee or shoulder. It is a minimally-invasive procedure in which the surgeon places a small camera near the joint to accurately operate on the affected area, using a thin surgical instrument. This is quite useful in treating joint inflammation and injuries. Since this is an outpatient surgery, the doctor may allow the patient to leave the surgical center the same day.
Joint Fusion – It is also known as arthrodesis and involves the "fusion" of two or more bones in the painful joint area. This is an effective way of lessening the pain and improving the stability of the joint. It is a commonly used procedure for treating joint arthritis in the spine, ankles, wrists, fingers, thumbs, and feet. The patient is recommended to rest for 8 to 12 weeks.
Rotator Cuff Repair – Rotator cuffs are initially treated with non-surgical methods but in severe conditions, surgery is quite helpful. It is aimed at repairing a torn rotator cuff by re-attaching the tendon to the upper arm bone (humerus). In case of a partial tear, a simple trimming or smoothing procedure like debridement may be effective. No extensive physical activity should be done for six months post-surgery.
Spine Surgery – This type of operation is either an open surgical procedure or a minimally invasive operation. It has several different approaches such as anterior approach (accessing the spine from the front through the abdomen), posterior approach (directly making an incision in the back to reach the spine), and lateral approach (reaching the spine through the side areas). It has a recovery time of four to six weeks.
Orthopedic Surgeon in Austin, TX
For more than 20 years, Advanced Pain Care has been helping numerous patients with a variety of pain conditions. We have the best orthopedic surgeons in Austin, TX who offer multiple treatment options including both palliative methods (therapies, medication, etc.) and surgical procedures such as debridement, arthroscopic labral repair, total joint replacement, etc.
On your visit to our center, our doctors will conduct a thorough examination of your condition (with tests like Arthrography, Discography, CT scans, etc.) to recommend the best treatment for you.
Our patient information portal provides important information you need as our first-time patient along with the details of the insurance carriers we are in-network with. We serve in multiple locations in the Greater Austin Area with three surgical centers in Austin, Amarillo and Round Rock. If you'd like to talk to us for guidance or queries, call our central helpline number – 512-244-4272.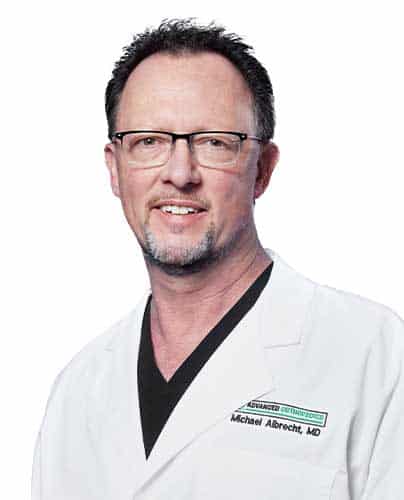 Michael Albrecht, M.P. Aff, M.D., is a Board Certified Orthopedic Surgeon. Dr. Albrecht has particular expertise in shoulder and knee conditions and is a Board Certified Orthopedic Sports Medicine Sub-specialist who is an advisor, consultant, and instructor… View Profile