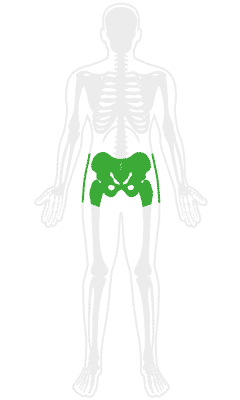 Who can benefit from treatment for hip pain?
Arthritis is the most common risk factor for hip pain, including osteoarthritis, rheumatoid arthritis, post-traumatic arthritis, avascular necrosis, and complications from childhood hip disease.
Osteoarthritis usually occurs in people age 50 and over, and most frequently in individuals with a family history of arthritis. It involves the wearing away of the cartilage cushion between the bones so that they rub against each other, causing pain and stiffness.
Post-traumatic arthritis occurs following damage to cartilage due to a serious hip injury. If such an injury causes reduced blood supply to the femoral head, the surface of the bone may collapse (avascular necrosis). Some diseases may also cause avascular necrosis.
Rheumatoid arthritis is an autoimmune disease in which chronic inflammation of the synovial membrane causes damage to cartilage, leading to pain and impaired mobility.
What is hip replacement?
Total hip replacement is one of the most successful orthopedic procedures identified by the American Academy of Orthopedic Surgeons, with 95% of patients reporting significant relief from pain following the procedure. Total hip replacement (also called hip arthroplasty) involves replacing damaged bone and cartilage with prosthetic components. These replacement components ensure a smooth and gliding surface at the ball-and-socket joint.
Hip Treatments Offered at Advanced Pain Care
Direct Anterior Hip Replacement
Hip Arthroscopy
Minimally Invasive Hip Replacement
Total Hip Replacement