The areas of the body that this pain and discomfort affects include the thighs, buttocks, inside and outside of the hip joint, and groin.
Any pain experienced in or around the hip joint is categorized as "hip pain". Hip pain is a common condition affecting people of different ages in the United States based on a variety of reasons – arthritis, injury, incorrect posture, overuse, muscle stiffness, sprains, fractures, tumors, inflammation of the tissues in the region, etc. Hip pain is typically characterized by pain and discomfort – ranging from mild to severe.
Hip pain often responds to simple over-the-counter drugs (to relieve pain and inflammation), mild exercises (including stretching and swimming), and physical therapy to improve the mobility of the hip joint. If the pain persists and a more aggressive treatment plan is needed, there a variety of non-invasive, minimally invasive and surgical options offered at Advanced Pain Care and Advanced Orthopedics.
Hip Pain treatments offered at Advanced Pain Care
At Advanced Pain Care, most instances of hip pain are initially treated with pharmacologic interventions by prescribing analgesics or pain medications. In some cases, when pain medications are not found to be sufficient to address the pain, pain care specialists and orthopedic doctors may advise minimally invasive hip pain treatment procedures such as:
Precision nerve injections
Radiofrequency ablation
If a patient has a long history of hip pain, or there is an injury or trauma that has caused extensive damage to the hip joints, the specialists at Advanced Orthopedics may advise surgery at the frontline of hip pain treatment. Surgery may also be advised if the hip becomes severely affected by arthritis – which may require a total joint replacement.
Here are some signs that may indicate the need for a hip surgery to resolve your pain and discomfort:
Persistent or recurring pain
Lack of or limited mobility
Ineffectiveness of other interventions
Reduced range of motion
Stiffness
Inflammation
Grating sensation in the joint
History of hip injuries
Persistent or recurring pain
Lack of or limited mobility
Ineffectiveness of other interventions
Reduced range of motion
Stiffness
Inflammation
Grating sensation in the joint
History of hip injuries
Here is a list of surgeries performed at Advanced Orthopedics for treating hip pain:
Direct anterior hip replacement
Hip arthroscopy
Minimally invasive hip replacement
Total hip replacement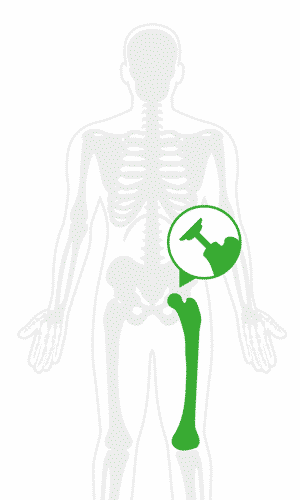 Direct anterior hip replacement surgery at Advanced Orthopedics
Direct anterior hip replacement surgery is a minimally invasive technique that has become one of the most successful and popular hip replacement surgeries in the U.S because it allows for quicker discharge and recovery times after surgery.
In this surgery, the surgeons make a small incision (approximately 3 to 4 inches long) near the front of the hip. After the incision, they remove all the damaged bone and cartilage and implant an artificial hip, without causing any damage to the muscles and tendons in the region. This surgical method is considered "muscle-sparing" as there is no cutting into tendons and muscles during the procedure. Some surgeons prefer the posterior approach to direct hip replacement although this surgical approach leads to more complications as it usually involves the cutting of the abductor muscle (instrumental for walking).
Direct anterior hip replacement surgery is usually recommended for patients with severe arthritis unless they are morbidly obese, have dysplasia, or post-traumatic arthritis in which case another procedure is usually recommended.
How long does a hip replacement surgery take?
As with any surgery, your surgical team at Advanced Orthopedics will give you a set of instructions with details about what and when to eat/drink and the medication that you will need to take prior to the surgery. They will make a detailed history of your past medical history, allergies, any anesthesia-related problems that you may have, and other medical complications.
Before surgery, surgeons will decide between using spinal or general anesthesia based on the specific patients general medical condition and previous issues (if any) with anesthesia and/or surgeries. The surgery itself takes approximately 1 hour, with an additional 1 hour for pre-surgery preparation.
In most cases, the patient will be monitored for a few hours in the recovery room and then discharged the same day.
What is the recovery time for a direct anterior hip replacement surgery?
Recovery times depend on many factors, but recovery is usually estimated at 4–6 weeks. It has been indicated that patients who have undergoing a direct anterior hip replacement surgery typically walk on their own, without assistance, at least 6 days earlier than a patient who had other hip replacement surgery procedures. This is because surgeons do not cut through the muscles or detach the tendons to reach the area of damage. The tissues are simply moved aside during the procedure and moved back in place after the implantation has been achieved. Recovery time and postoperative pain are both reduced with a direct anterior hip replacement surgery. This specific type of hip replacement surgery also reduces a patients need for as much post-operative physical therapy.
What are the post-surgery steps to help with recovery after hip replacement surgery?
After surgery, patients commonly achieve mobility and regain strength in 4 to 6 weeks. Your orthopedic surgeon will work with pain management specialists and physical therapists at Advanced Pain Care to create a recovery regime that involves physical and occupational therapy — either as an outpatient service or at home.
With regular therapy during this rehabilitation period, patients can resume work and mild to moderate activities in about a month. All activities, however, should to be cleared with your orthopedic specialist first.
What are the benefits of direct anterior hip replacement surgery?
Decreased pain and faster mobility are the two main advantages of this form of hip replacement surgery. This type of hip replacement surgery can be performed as an outpatient procedure, which means that the patient can go home faster, and involves several additional benefits, such as:
Faster functionality and mobility
Fewer restrictions during recovery
Lower risk of hip dislocation after the surgery
Lower chances of different leg lengths
Also, since the tendons are not detached from the hip during the procedure, recovery time is reduced over other traditional hip replacement procedures.
What are the possible risks?
There is risk associated with any surgical procedure – including a direct anterior hip replacement surgery. That said, risks associated with this procedure are considered minimal. Prior to the procedure, the surgeons at Advanced Orthopedics will discuss such risks and potential complications with their patients along with the remedies employed if any issues do arise during or after the surgery. Some possible risks include:
Injury to nerves and muscles in the region
Looseness in the joints
Hip dislocation
Hip joint infection or septic arthritis
Hip bone infection or osteomyelitis
Differing leg lengths
Numbness in the skin in the region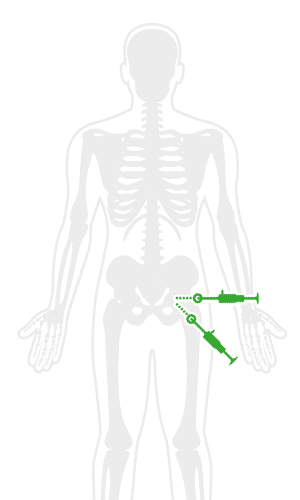 Hip arthroscopy surgery
Hip arthroscopy surgery is a minimally invasive technique used to correct intra and extra-articular (conditions of or in the joints) disorders that cause hip pain. The process involves the use of a scope, hip scope, or arthroscope (a fiber-optic tube) to examine the insides of a hip joint to both diagnose and treat the condition affecting the hip joint(s).
To evaluate if this procedure is right for a patient's specific diagnosis, the surgeons will perform a thorough investigation of past and current medical history, review imaging test results, and conduct a physical examination. Larger pincer deformities are usually excluded from this procedure as they require traditional, open surgery.
Some of the hip conditions and injuries that can be treated with a hip arthroscopy surgery include:
Removal of bone spurs, damaged joint lining, and loose fragments of cartilage
Hip impingement
Snapping hip syndrome
Hip joint infection
Synovitis
Labral tear
Dysplasia
In this procedure, the surgeons will make small incisions (quarter to half-inch long) to insert an arthroscope to examine and repair the hip joint. The entire procedure is performed with the leg pulled in traction to allow for space in the hip joint and done under the guidance of a fluoroscope, a portable X-ray device. The arthroscope allows the surgeons to examine the condition of the ligaments, the cartilage around the hip socket, and determine the spacing within the joint to check for signs of inflammation and/or degeneration.
How long does a hip arthroscopy surgery usually take?
This minimally invasive hip replacement surgery is usually performed as an outpatient procedure and usually takes between 30 minutes to 1 hour to complete.
How long does the patient need to heal/recover?
For a patient recovering from a hip arthroscopy surgery, most symptoms will start improving almost immediately after the procedure. However, during the recovery period, the patient may experience the following symptoms as a part of the healing process:
Recurrence of pain due to irritation in the joint lining
Tenderness in the region
Swelling
Recovery time depends on the specificities of the condition, although most symptoms usually subside within a week.
What are the post-treatment measures taken after hip arthroscopy surgery?
Since this is an outpatient procedure, patients are usually discharged from the surgery on the same day after their hip replacement procedure and are given the following post-operative instructions to follow to ensure a speedy and successful recovery:
Use ice compress on the hip multiple times a day
Take pain medications as prescribed
Begin physical therapy post that as advised (in some cases, it may be advised immediately after the surgery)
Start specific isometric, plyometric, and weights exercises under the guidance of the physical therapist
Avoid prolonged bouts of standing, walking, etc.
Limit the weight you put on the operated side
Attend all subsequent appointments to evaluate the success of your recovery
What are the benefits of hip arthroscopy surgery?
The main benefits of undergoing a hip arthroscopy surgery are:
Less pain (as incisions are small)
Less stiffness in the joints
Faster recovery time
Less trauma to the joints
Less scarring
This procedure is also done to evaluate the condition of the hip joints as it can be used to proactively treat the causes of hip arthritis in its early stages. This is known as hip preservation.
What are the possible risks?
Complications from this type of surgery are rare. While there are chances of small injuries or trauma to the nearby nerves or joints, this is usually a temporary phenomenon. This risk of sensations produced from stretched nerves and the danger of infection are low for this type o procedure, and if they occur, are usually resolved quickly with no permanent damage.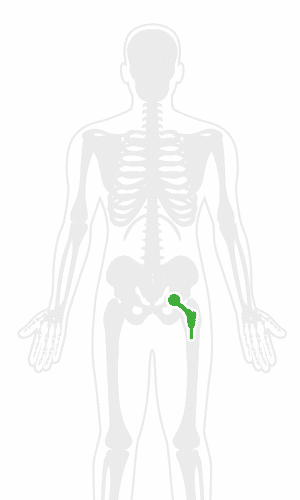 Minimally invasive hip replacement surgery
Total hip replacement is a common procedure with surgeons completely replacing the hip joint with an implant or prosthesis. A hip replacement is usually required for the following conditions:
Osteonecrosis
Rheumatoid arthritis
Tumor in the bone
Osteoarthritis
Fractures
However, unlike the traditional form of total hip replacement, a minimally invasive hip replacement surgery only involves one or two small incisions which reduces the operating time needed for this specific surgery Also, unlike a traditional hip replacement procedure, there is often no need to cut the tendons and soft tissues to reach the damaged area of the hip joint during the process of implanting the prosthesis. The implants used in both the surgical procedures remain the same; however, special instruments are required to perform this minimally invasive surgery.
Though it has definite advantages over a traditional procedure, this surgery is not suitable for all patients. In case of the following conditions, the surgeons may decide not to perform this procedure:
Significant deformities in the hip region
Obesity
Previous history of hip surgeries
Low level of fitness
For patients with severe osteoporosis, hip replacement may not be an option.
What is the duration of the surgery?
The total time needed for this specific type of procedure usually takes around 1 to 2 hours to complete.
How long does the patient need to heal/recover?
The anesthesiologists at Advanced Orthopedics will decide on whether to use regional or general anesthesia based on the patient's overall health condition. Depending on the postoperative indicators and imaging test results, patients are usually discharged the same day of the surgery and will be evaluated closely by the surgical team for the first few days to monitor and evaluate the progress of their recovery.
What are the post-treatment measures taken for recovery?
Physical therapy is a crucial part of postoperative care, and your surgical team may recommend therapy either immediately after surgery or after a few weeks, depending on your condition and recovery. To manage pain, doctors may initially recommend the use of patient-controlled analgesia pumps to administer pain medications, which can then be taken orally as recovery and rehabilitation progresses.
Additionally, a crutch or a walker is advised to be used immediately after the surgery for a few weeks to help provide support to the operated side(s).
Supervised rehabilitation and physical therapy (including stretching, strengthening, and other exercises) are always required after this type of surgery for usually about 4 to 5 weeks.
What are the possible risks?
Complications with the type of surgery are similar to other minimally invasive hip replacement surgeries, except for one possible concern that may arise. With the surgeon having a limited view of the joint, proper alignment of the prosthesis during the procedure is challenging, although the surgical teams at Advanced Orthopedics have decades of surgical experience and are able to address and overcome such challenges to continue to deliver successful outcomes for their patients.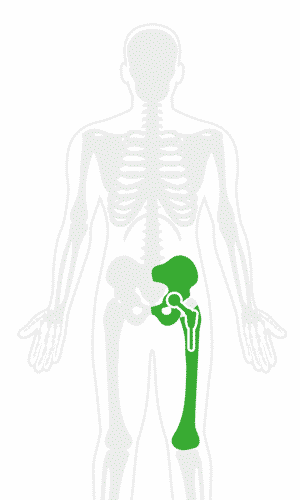 Total hip replacement surgery
In traditional total hip replacement surgeries, surgeons make a 6-to-12-inch incision on the side of the hip and are able to get a clear view of the hip joint during the surgery.
During the surgery, the damaged femoral head and the damaged cartilage are removed and replaced with a metal stem, ball, and socket. In most cases, cement or screws are used to hold the socket in place along with a spacer to allow for a smooth gliding surface. The design, size, and shape of the prosthesis can vary based on the patient's anatomy and can be either cemented or cementless.
How long does the patient need to heal/recover?
If a minimally invasive hip replacement surgery is performed under regional or spinal anesthesia, the patient is often discharged on the same day from the surgery center where their procedure was performed.
The patient is encouraged to walk within 24 hours of the procedure with the assistance of a crutch or a walker, although a full recovery and return to a normal lifestyle can take anywhere from 3 months to a year; however, it is important to consult with your doctors for clearance before attempting to any previous routines.
What are the post-treatment measures?
Along with prescribing pain medications, blood thinners, anti-inflammatories, and beginning physiotherapy, there are specific instructions that surgeons will provide at the time of discharge to minimize the risk of dislocation or damage to the implant(s) after surgery. They include:
Avoidance of specific postures and movements
Use of crutches or walkers to avoid putting weight on the joint
It usually takes about 4 to 6 weeks for the femur bone to grow into the implant, especially with cementless procedures. During this time, the joint remains vulnerable and precautions should be followed closely.
Physiotherapy is also crucial for a complete recovery that includes full functionality and mobility, and fosters recovery in the following ways:
Expedites the process of healing by improving blood flow to the region
Reduces the risk of long-term stiffness
Improves functionality
Physical therapy usually begins when the patient is still in the surgical center and usually extends for approximately 6 to 8 weeks after surgery to help foster complete healing and mobility.
What are the benefits of total hip replacement surgery?
The main advantage of this minimally invasive procedure is that it allows a clearer view of the surgical area for surgeons which improves the chances of achieving a perfect alignment with the implant and reduces the possibility of complications (such as a dislocation).
What are the possible risks?
There are definite advantages with total hip replacement surgery although this procedure does involve the risk of complications that can include:
More possibility of damage to surrounding tissues and muscles
Slower recovery
Larger scars
There may be some fluid drainage from the incision, which is commonly accompanied by fever, chills, redness, pain, and/or inflammation. If this occurs, speak to your doctors/surgeons immediately.
How to choose the right treatment for yourself?
Hip replacement procedures are only considered after non-surgical treatments have been unsuccessful. The goal of surgery is to reduce pain and improve long-term functionality, however, not everyone is a good candidate for hip replacement surgery. The choice of procedure ultimately rests on the evaluation by the orthopedic surgeons – overall medical condition, an underlying condition requiring the surgery, possible contraindications, etc.
In case of these possible contraindications, surgery may not be recommended:
Existing infections
Smoking
Background of dementia
Severe osteoporosis
Type 2 diabetes
Heart complications
Who can benefit from treatment for hip pain?
Arthritis is the most common risk factor for hip pain, including osteoarthritis, rheumatoid arthritis, post-traumatic arthritis, avascular necrosis, and complications from childhood hip disease.
Osteoarthritis usually occurs in people age 50 and over, and most frequently in individuals with a family history of arthritis. It involves the wearing away of the cartilage cushion between the bones so that they rub against each other, causing pain and stiffness.
Post-traumatic arthritis occurs following damage to cartilage due to a serious hip injury. If such an injury causes reduced blood supply to the femoral head, the surface of the bone may collapse (avascular necrosis). Some diseases may also cause avascular necrosis.
Rheumatoid arthritis is an autoimmune disease in which chronic inflammation of the synovial membrane causes damage to cartilage, leading to pain and impaired mobility.
When to see a Doctor?
While not life-threatening, untreated causes of hip pain can lead to disability. If you are experiencing any of the following symptoms, schedule a same or next day consultation with an orthopedic doctor at Advanced Orthopedics by calling 512-244-4272 or visiting www.austinpaindoctor.com :
Popping sound in the hip joint at the time of injury or trauma
Persistent or increasing pain in the hip(s) area
Sudden onset of acute pain in the hip(s) area
Injury or trauma causing the pain
Swelling, redness, and/or warmth around the hip joints
Inability to put pressure or weight on the hip(s)
Inability to move your legs or hips
Q: How painful is arthroscopic hip surgery?
A: You will be asleep for the surgery itself. Post op pain is mild because incisions during the surgery are small and there is minimal tissue displacement.
Q: How do you heal a hip?
A: Hip pain can be reduced by getting adequate rest and not putting weight on the hip joints. In most cases, a simple protocol of RICE – Rest, Ice, Compression, and Elevation, along with basic pain medications may be sufficient to reduce the pain. If you have severe arthritis or have had an injury/trauma to the hip, you will need the assistance of an orthopedic doctor.
Q: What happens after hip surgery?
A: In most cases, patients are able to walk with assistance on the same day of their hip surgery, although complete recovery and return to a normal lifestyle may take 3 to 6 months depending on the specifics of the case, time invested in recovery/rehab and the individual patient's overall level of health. There is, however, a specific list of do's and don'ts that the doctor/surgeon will provide for both short-term and long-term post-operative care regiments.
Q: What are the first signs of needing a hip replacement?
A: An X-ray can help the orthopedic doctor evaluate your condition and decide if you need a hip replacement. The signs that commonly indicate you may need a hip replacement surgery include:
Hip or groin pain that is persistent
Continued stiffness in the hip or groin area
The one leg test
Inadequate pain relief from other non-surgical treatments
Q: Can hip pain be cured without surgery?
A: Surgery for hip pain is usually the last option if all other options are unsuccessful. Medications, pain injections, non-invasive pain treatments, physical therapy, and walking aids are first facilitated to help the patient find relief from hip pain before a surgery is recommended and scheduled.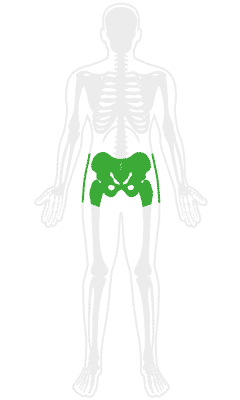 Advanced Orthopedics is a leading Orthopedics practice in Central Texas.
We offer a team of experienced and recognized orthopedic surgeons that have been treating Central Texans for decades in state-of-the-art clinics and surgery centers all focused on getting back patients back to their active lifestyles and out of pain. We also offer Pain Management, Rheumatology and Neurosurgery to provide multi-modal treatments and options for patients in pain. This allows us to create personalized diagnosis and treatment options for patients who are experiencing a wide range of pain conditions to get them back to feeling their best as soon as possible.
If you are in pain, there is no need to wait. Advanced Orthopedics – The Pain Stops Here.