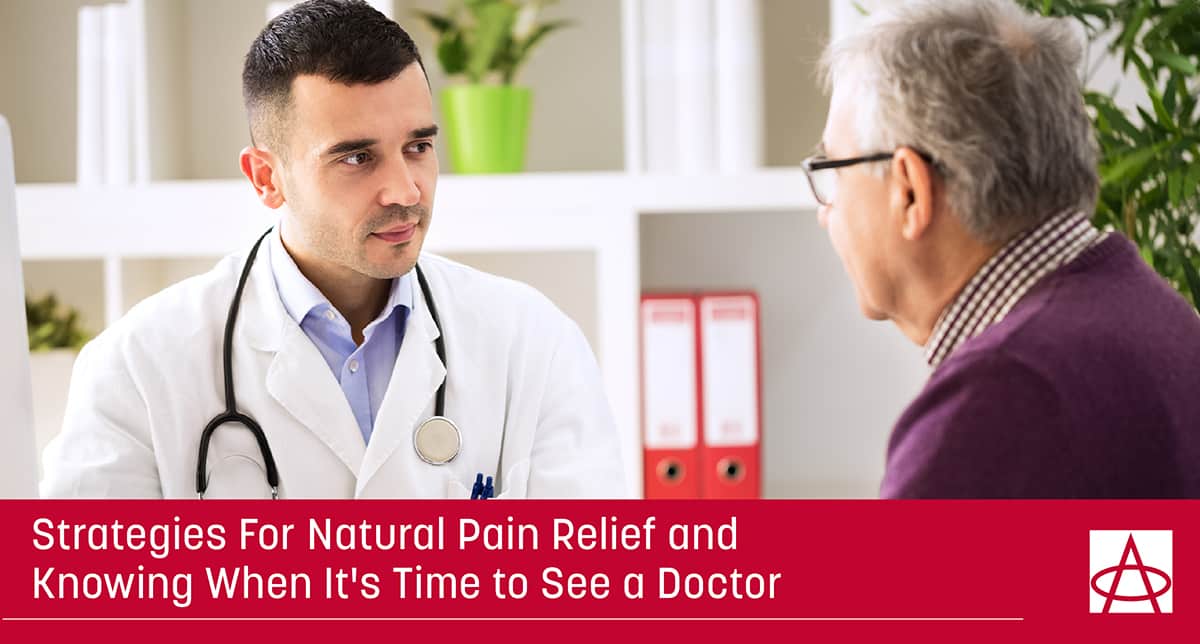 Strategies For Natural Pain Relief and Knowing When It's Time to See a Doctor
By Brad Culling, D.O.
When I talk to my patients about their acute pain, I encourage them to seek out natural remedies and strategies first. These can be very effective for tackling and managing your pain so that it lowers your need to see a doctor. Of course, if your pain is prolonged and persistent, affecting your quality of life, then it may be time to seek medical help. This is any chronic pain that persists longer than 6-8 weeks and no other remedies are working to affect your pain. At that point, see your doctor and they can help you develop a treatment plan that is right for you.
At-home remedies
Stretching
Stretching can be the most common remedy for relieving temporary pain. You can do at home, or simple stretches to relax the muscle tissue and the surrounding tendons. In between stretches, and where the muscle tissue is inflamed, apply an interchange of heat and ice to soothe the area. Ice can help you lower inflammation, while heat can help relax the muscle tissues from tension and spasm.
Diet and Exercise
Diet can have a huge impact on your pain. Certain foods can increase inflammation and cause pain to worsen. I encourage patients to seek foods that are anti-inflammatory, perhaps even adopting a mediterranean diet. These foods include: fruits, vegetables, whole grains, fatty fish, and nuts. You can also incorporate specific herbs, teas, and tinctures into your diet that include ginger, cumin, and cayenne pepper that can help you reduce inflammation. Avoid foods that have a high volume of sugars, such as candies, fast food, and those that are high in sodium. This can prolong your pain and it can also have an adverse effect on your mood. Mental health and physical health are linked; so when one is affected, the other can be too, and you may suffer prolonged periods of pain.
Exercise can be a great way to boost your mood and can help strengthen your muscles so they are less susceptible to injury and pain. Your exercise routine doesn't have to be rigorous, as long as you are consistent. It can give you a sense of wellbeing and allow you to boost your natural endorphins in your body. Exercise can help you also reduce inflammation and help you to gain flexibility in your muscles and joints. I even suggest exercising while recovering from pain; because it can reduce your stress levels, which will likely release inflammation around the targeted area. You can also explore tai chi, yoga, and/or pilates, which are more relaxing forms of exercise to help reduce stress in the body, and aid in your recovery.
Over the counter medications / topicals
Over the counter medications and topicals can be helpful especially for short term pain relief. Pain relievers such as Tylenol, and anti-inflammatory medications, such as Ibuprofen, are some options to choose from. You may see further relief if you pair those medications with a topical option, such as a menthol or lidocaine patch.
CBD oil may be helpful as well. Cannabidiol (CBD) is a natural chemical found in marijuana plants that does not usually cause the "high" feeling unlike the other cannabinoid, THC. It can help you tackle your pain because it sends signals to your pain receptors, relieving the pain and inflammation around the targeted area. Unfortunately, because CBD topicals are still fairly new on the market, they are highly unregulated. Make sure you are going to a place that you can trust.
Mental Health Management
Mental health and chronic pain usually go hand and hand. If you are currently suffering from acute pain, it can worsen, especially if you are also suffering with mental health disorders, such as anxiety and depression; and vice versa. The pain pathways for physical pain are intertwined with those that may cause mental health pain.
Inform your family that you may be hurting, so they can support you and know what you may be going through. These connections can help ease your mental health pain, and subsequently release stress and tension in your body. You can also support yourself by downloading online resources, phone apps, such as Calm and Headspace, and books that teach you how to meditate and/or calm your mind.
Try to improve your sleeping and resting habits. Take breaks throughout the day to clear your mind. If you need more support, seek the care of a mental health professional.
Outside home remedies
Change how you work
If you are sitting at a desk, hunched over a computer for prolonged periods of time, try to get up and walk around every hour to bring a bit of movement. Every hour, take a break to stretch or walk around to relieve tension and inflammation around the targeted area. If your workplace or office allows, try to stand up while you work, or get a standing desk. You may also want to get an ergonomic chair with lots of lumbar support that can help relieve pain especially in your neck, shoulders, and down your spine.
Spas
Infrared saunas and jacuzzis can release stiffness and soreness around the targeted area. The heat relaxes the muscles and increases blood flow in the area. It also can generally improve mood and release stress, which also contributes to your overall pain relief.
Time To See Your Doctor
If you have tried any and/or all of the natural remedies, yet your pain persists, it may be time to see your doctor. Prepare all the symptoms you have been feeling over the prolonged period. Provide as much detail as possible to your doctor; such as: when your pain first started, what was the catalyst that caused your pain, what remedies have you already tried to relieve your pain, and what of those remedies has given you the most relief. The more detail you provide, the easier it will be for your doctor to customize a treatment plan that can treat your chronic pain and improve your quality of life.
When you go to your doctor, you will receive a thorough interview to collect your medical history, and will be asked to take a physical exam and imaging. Your doctor may suggest physical therapy, rehab, or even surgery.
The best thing you can do for your pain is to tackle it immediately and swiftly trying natural remedies and strategies first. If that doesn't work, and you would like further support, your pain doctor and/or general practitioner can help you develop a strategy that combines natural and medical strategies that can work especially for you.