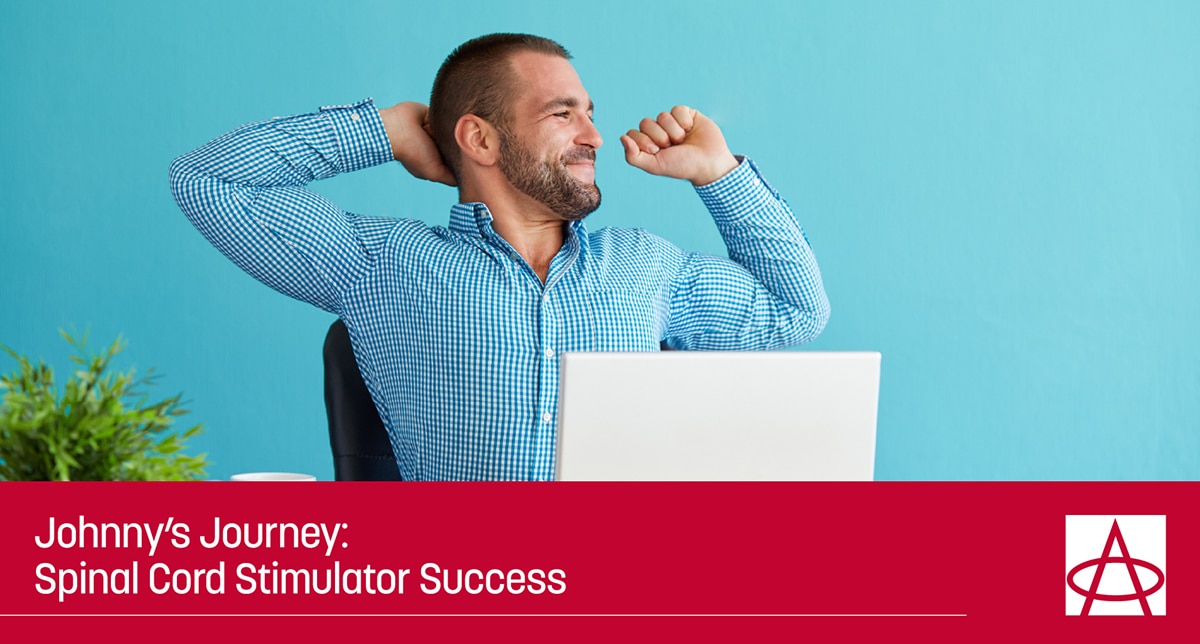 Johnny's Journey: Spinal Cord Stimulator Success
The Injury
In August of 2019, Johnny fell into his fireplace and developed extreme pain like he'd never felt before.
Though he went to one of his own doctors, they'd told him nothing was wrong, but he insisted that he try another primary care doctor to get some answers.
Finally, after finding a doctor who encouraged him to get an x-ray and learning that his 3 fractured bones were not normal for a 40-year-old to have after a fall, he was diagnosed with severe bone loss, which was something he'd had but never found out about until that very moment. Meanwhile, his uncle had recommended a surgeon, but when Johnny inquired, was told that his bones weren't strong enough for the rods and pins required.
For years, Johnny had been living in pain, unable to take even pain medication because of kidney issues.
Simultaneously, Johnny was also starting a new job: in the Patient Access department at Advanced Pain Care! During one of his first days, he headed over to the Round Rock location, met Patient Ambassador Chester Jones and after talking a little bit about his own experience with treating chronic pain, was directed towards Josephine for him to fill out a questionnaire of what he'd been struggling with and past protocols he'd been through before.
Two months into his job at Advanced Pain Care, he'd met with Dr. Adams and prepped for a spinal cord stimulator trial put in.
"It felt like dumb luck of me coming here, working here, running into Chester, telling him my story, and ending up getting major relief from something I've been living with for many years!" – Johnny
Related: Dennis's Spinal Cord Stimulator Success Story
The Trial, Surgery, and Daily Usage
Patients are encouraged to have theirs in for at least 72 hours to get the full effect of the spinal cord stimulator.
Other than a slight reaction from the tape, "the trial was otherwise fine," Johnny tells us. "The pain went from 10– [it used to be] from the time I woke up to the time I got home– down to a 0 or 2. It was life-changing, just with the trial."
After the trial, Dr. Adams put in the permanent spinal cord stimulator, which brought Johnny the same relief that the trial had, only now, he had it in the long term.
The way spinal cord stimulator patients use it varies per person. While the stimulator itself feels like nothing, patients do have the option to turn the intensity up or down based on their pain levels. Some prefer having the tingly feeling, some prefer to turn it off when they feel the pain won't be as bad, and some prefer to keep it at the same setting.
"You almost forget about it," Johnny tells us. "I carry [the controller] with me– even right now, it's in the top pocket of my scrubs– but I rarely do anything with it."
About The Spinal Cord Stimulator
Who It's For
Some of us have experienced fleeting pain: a sprained ankle, a light brush of back pain after a long day working outside, or a little shoulder tightness from sitting at your desk for a particularly long day.
But many develop chronic pain, dealing with the same ongoing discomfort for years, oftentimes after countless protocols and multiple invasive surgeries.
For many, a spinal cord stimulator sometimes feels like it's just another idea that won't work, which is why we like to offer a trial run of it for qualified patients to get a feel for it before getting it put in.
Once they have the trial put in, we've found that the majority of our patients can't even wait the entire term of the trial– they want to get their implant appointment scheduled!
How It Works
One of the wonderful facts about the spinal cord stimulator is that it's helped patients with multiple different areas of pain: nerve damage, complex regional pain syndrome, spinal cord injuries, heart pain, neck injuries, and even failed back surgery.
It also works alongside other, more holistic pain management treatments, like physical therapy and relaxation methods, making it a true facet of a patient's overall lifestyle change without the upkeep of other methods and side effects like multiple medications.
Related: Q&A: Chronic Pain and the Spinal Cord Stimulator
Before anything, your Advanced Pain Care physician needs to determine whether a spinal cord stimulator is actually a viable treatment option for your pain care plan. There are multiple departments within APC that we refer patients to (simply and easily through our multidisciplinary clinic!), but prior to confirming if a spinal cord stimulator is an option, a patient will likely undergo imaging and a psychological evaluation to give their doctor a bird's eye view of their pain before making any decisions.
If a patient qualifies for a spinal cord stimulator, one of our pain specialists will implant the trial, where an external device will generate temporary electrodes into the needed area, so they can try out the stimulator for a few days before committing to the implant.
After the trial period is finished and a patient wants to continue with the implant, they'll undergo an outpatient procedure ranging about an hour long, where the generator is placed under the skin (instead of outside of it) and the temporary electrodes are replaced with sterile electrodes anchored by sutures.
Johnny's Work at APC
As Johnny's story with us started in Patient Access Department and as of recently moving over to the Insurance Verification and Billing, so safe to say, he has a good view of Advanced Pain Care both from the patient side and from the healthcare provider side, and we love having him a part of the APC family on both fronts!
If you're interested in exploring a spinal cord stimulator, contact your nearest APC office to schedule an appointment. We're rooting for you, and look forward to helping you in your journey to pain relief.