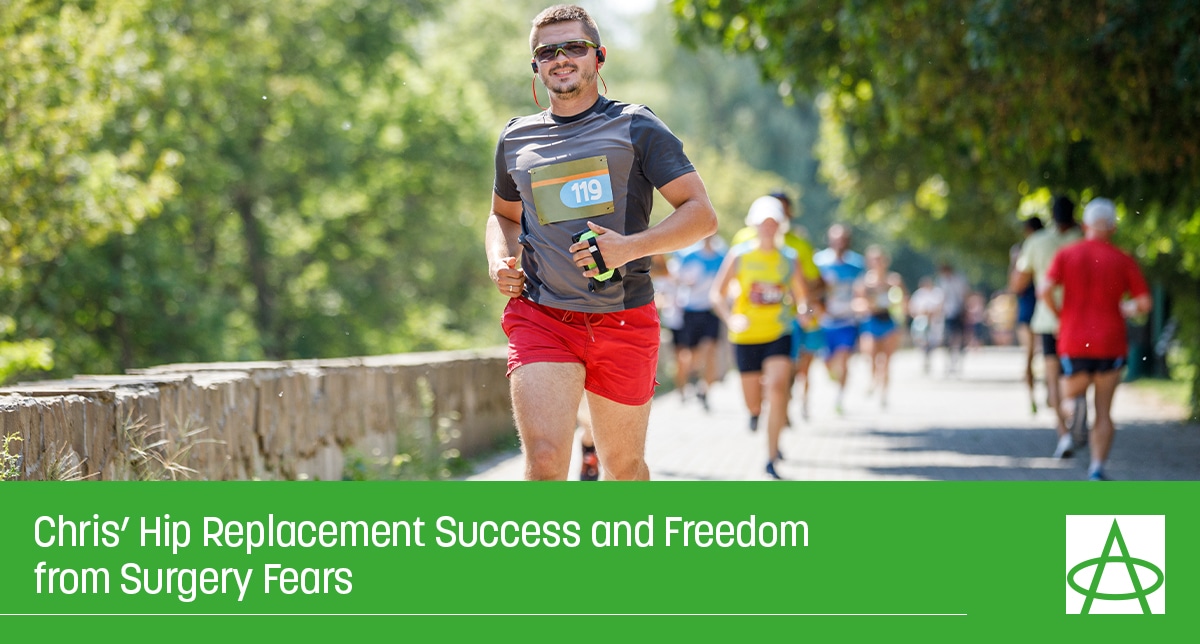 Chris' Hip Replacement Success and Freedom from Surgery Fears
"I've been in a couple of wars, I've taken a lot of bullets. I've got some holes in me… and I was afraid of this hip replacement," Chris tells us, an APC hip replacement patient. "I was a real weenie on this because of the fear of anesthesia!"
As the owner of JP Mortgage Services, Chris has another passion on top of his professional work: drag racing at the Little River Dragway. But during one race in a 52-year-old car, he forgot to change his steering wheel column, and when the lights changed, his steering column snapped. He had no control over it and hit a pole at 141 miles per hour.
Working with Advanced Pain Care
Chris had been managing his chronic pain on a cane and crutch for two and a half years before seeking help, trying to subdue the pain through medications, but secretly knowing that pain meds weren't going to be the ultimate solution to his problem. His fear of anesthesia was a big factor in delaying the decision for help, but "I saw your advertisement, and I said you know what? I got nothing to lose," he says.
His first encounter with the Advanced Pain Care team after his accident was with Dr. Wisler. Expecting to get steroid injections, Chris was surprised when after his x-ray, Dr. Wisler insisted he see their surgeon at Advanced Pain Care for a direct anterior hip replacement.
He admits, he got cold feet and had to overcome his fear of going under anesthesia, but Jody Green in the Round Rock location supported him and ensured him of the safety of the procedure, and he trusted her.
"With much trepidation, I went in and had the surgery on February 28th… I was up and walking the next day… [and] two or three weeks ago [around 3 months after the surgery], I ran a 5k. I am running six and a half miles now."
The Types of Hip Replacements at Advanced Pain Care
While Chris received his direct anterior hip replacement, there are other hip replacements that our surgeons can perform, depending on the injury. Here are some of the most common ones:
Related: So You Broke Your Hip: Now What?
Direct Anterior Hip Replacement
Chris's surgery, and a minimally invasive, outpatient procedure, the direct anterior hip replacement is great for allowing for a quicker recovery time. In this surgery, a small incision is created near the front of the hip, the damaged bone and cartilage are removed, and an artificial hip is inserted, causing no damage to the muscles and tendons in the region.
Since this method doesn't include cutting into tendons and muscles, the method is considered "muscle-sparing."
Minimally Invasive Hip Replacement Surgery
Sometimes, surgeons replacing a hip joint with an implant or prosthesis will opt for a minimally invasive hip replacement surgery, typically for ailments like osteonecrosis, rheumatoid arthritis, bone tumors, osteoarthritis, and fractures.
Compared to a total hip replacement, this surgery doesn't require more than 1 or 2 small incisions and doesn't typically require cutting tendons and soft tissue to reach the damaged area of the hip joint.
Total Hip Replacement Surgery
Probably the most traditionally known hip replacement surgery, a total hip replacement requires a relatively large incision on the side of the hip, in which the damaged cartilage is replaced with a metal stem, ball, and socket, with screws to hold the socket in place.
Common Physical Therapy Protocols at Advanced Pain Care
After his hip replacement, Chris was instructed to undergo physical therapy protocols to retrain his hips to move correctly.
"By following the physical therapy and doing the stretching and doing everything they told me to do, I feel fine! They've done a miraculous job."
Here are a few common physical therapy protocols that we provide patients at Advanced Pain Care (these may or may not be prescribed to patients with hip replacements, so please consult your primary care provider before doing any of these stretches!):
Kneeling Stretch: starting on your knees, sitting back on your heels, and with your arms at your side, bend your head down towards your chin while bending your trunk forward. Reach forward with your hands on the floor and hold for 15 to 30 seconds. Pull your trunk back up to your starting position, and repeat this 3-5 times.
Hamstring Stretch: Sit on a chair with your right leg straight in front of you, and reach towards your ankle. Keep your knee, neck, and back straight. Feel the stretch in the back of your thigh, and hold it for 30 seconds. Repeat this 3-5 times.
Knee to Side Supine Piriformis Stretch: Lie on your back, and bend your right knee so that your right foot is flat on the floor. Cross your left leg over your right so your left ankle rests on your right knee. Use your hands to grab hold of your left knee and pull it gently towards the opposite shoulder. Hold the stretch for 15-30 seconds and then turn your leg back to the center and lower it. Repeat on the other side.
Related: Chronic Pain? Inversion Therapy Could Help
Chris's Tips for Overcoming Surgery Fears
"There are a lot of people my age who may be just as tough or tougher than I was, who are really, really apprehensive about having a hip replacement," Chris explains.
Then, humorously, Chris reminded us that he's 68, and he can get away with saying all sorts of things:
"The thing I'd tell anybody is if you're worried [about getting surgery] you need to wake up, you need to grow the stones to just do it and you got to follow what the physical therapy people tell you to do! At 68, I will tell you that next year, I'll be running in 10Ks, I'll be running in marathons, I'll be playing golf very shortly and walking 18 holes, and I'll be dancing the night away! I have suggested other people to contact [APC], including my wife Roxanne, so if you've got somebody who's going to go oh gee, golly, I don't know… you tell him to call me."
Chris's sheer enthusiasm tells us a powerful enough story of not only having physical success with his hip replacement, but an emotional release after overcoming his fear of surgery. This was after one of our team members, Jody Green, walked him through the entire process with calmness and care, alongside his surgeon; leaving him a "lovely scar and doing a great job" so he can walk and run with no pain!
Whether you haven't owned up to the reality of an existing injury, have had hundreds of surgeries but haven't had the time to make an appointment, or just want to stay healthy enough to stay on up your drag racing or golf playing, APC can help you find the pain management plan you need. And as Chris says, "It's all between your ears."
Find an office near you and schedule your appointment today, and relieve chronic pain for good!