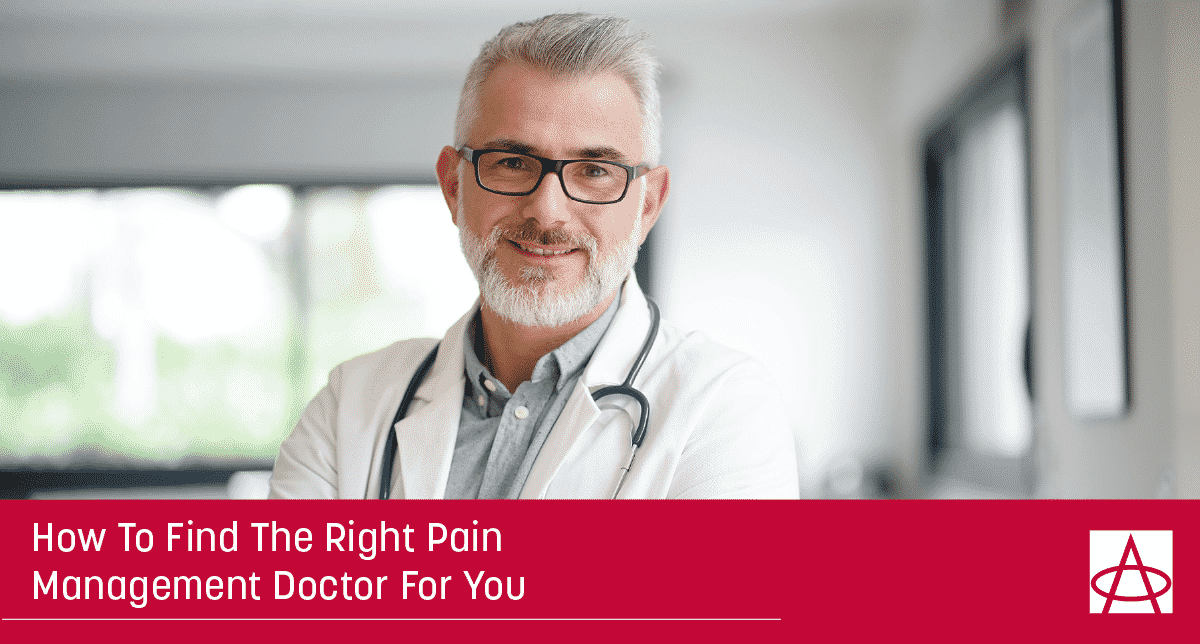 How to Find the Right Pain Management Doctor for You
By: Jeff Higginbotham, MD
I saw a new patient this morning, and I said, 'Well, it's nice to meet you. I'm sorry you had to come to me!' He laughed. You see, when a patient comes to see me, that means whatever pain has been going on in their life has not been getting better on its own. We step in to see what we can do to either manage the pain or improve it.
Trying to find the right pain management specialist can be challenging, and many patients bounce from doctor to doctor trying to find the right fit. 
Historically you were referred to a pain management doctor by your primary care physician, neurosurgeon, or rheumatologist. However, the paradigm is shifting, and patients are coming to us directly for conservative care before looking at other options. Here at Advanced Pain Care, we have much in-house expertise at our fingertips that can help you before you have to even think about surgery. 
We offer same-day or next-day consultations that get you a step closer to proper pain management, rather than waiting for months being referred from doctor to doctor.
What Should I Look For When Trying To Find A Pain Management Doctor?
Firstly, look at the doctor's background and training to ensure that they are board-certified, then check if they are subspecialty fellowship-trained. Those are essential first steps in making sure this doctor is qualified to treat you.
Secondly, after training, you have to make sure that you get on with your doctor. There are many different personality styles in doctoring! Some doctors tell the patient what to do; the patient is not to question anything and do what that doctor says – no questions asked.
Personally, that's not my style. I look for collaboration. Most of my patients have longstanding chronic pain, so we're looking at what we can do as a team to get them moving forward and get them feeling better. Sometimes pain cannot be fixed entirely, but we can make it manageable. We're trying to make the best version of themselves that we can, and allow them to do everyday things such as going to the grocery store, visiting grand kids, and moving around, which many of us take for granted.
You can not figure out if a doctor is right for you on Google, but after the first session, you will know whether you mesh. Sometimes, it may look like my new patients have been doctor shopping, but they are just trying to find someone who understands their pain problems.
Flexibility in treatment plans is another essential when looking for a pain doctors near me. Pain management is not a one-size-fits-all solution. Everybody's a little bit different. We have to use their background, history, where they come from, their pathology, and what's going on mentally to develop an individualized treatment plan for that patient. As a potential patient, you must question whether the doctor has the flexibility to identify and understand you.
Realistic expectations. I can't emphasize that enough. There are so many doctors out there that you will go to, and they will promise you an end to your pain. What happens then if the doctor cannot 'fix' you? Then, you have a whole clinic full of irritated people because you have not lived up to your end of the bargain.
I tell patients that every day when I'm putting on my scrubs in the morning, I look for my magic wand to bless people and make their pain completely subside. I've never found that magic wand. Since we know we have no magic wands, we're going to work together to see what we can do to make your pain the least we can, knowing that perfect doesn't always exist. I have many patients I see every day with chronic pain that still hurts, but their pain is managed, and they do exceptionally well.
What Does The APC Doctor Need To Know About My Pain History?
Nothing at all. We do all of the evaluations that we need to do to get to the bottom of your pain problem. We look at you and do the triage to figure out whether you need surgery, or rheumatology, or other treatment options.
All you need to come to us is a pain complaint. We work everything out for you and develop individualized treatment plans to suit your specific needs. I've always joked with patients that I can see five different people with the same condition, and I might treat them in five different ways.
Because we work exclusively in this field, we know what we're looking for and the areas that we can look into deeper. We ask the right questions. For example, if a patient comes in with back pain, that is just a symptom, nothing more, nothing less. Back pain tells me nothing. From there, we look at what within the back is causing the pain.
One of the hats I wear every day involves taking a symptom, making sense of it, and trying to understand what drives the pain. Depending on the driver of the pain, then we can look at how we can help. Often we see patients that somebody has already tried to treat – and they're not fixed. Sometimes they're not fixable, so we look at what we can do to make the best of a bad situation.
How Does APC Differ From Other Pain Management Clinics?
One of Advanced Pain Care's biggest draws is our multidisciplinary approach. Because of how many doctors and treatment options we have here, we're also able to offer behavioral health services, including counseling. When people have chronic pain, it beats them down and can cause depression. Just coping when you hurt all day can be a real challenge.
We also have rheumatology, orthopedics, and neurosurgery, all within one practice. That's a huge benefit. One of the problems in smaller, private practice groups, is that you send a patient off for testing, or to another specialty, and you don't hear anything back from the specialist you sent them to. Your systems don't connect, and you lose things in the shuffle.
We've consolidated all of the different pain management specialties, and mental health into our practice to take care of the patient on multiple levels. For example, if I saw a person that needed a rheumatologist, our front desk will schedule them with a rheumatologist within the practice right away.
Related: Why Psychological Support Is so Important When Dealing With Chronic Pain
Everybody Does Pain Differently
Some doctors are slow and super conservative; they're not aggressive enough in trying to explore every option they can to try to help somebody. We take an active, assertive approach to try to help patients. With Advanced Pain Care, we have loads of different options from medications, rehab, behavioral health, and interventional pain management techniques to neuro-modulation therapies. We do lots of these things all early to try to get the person better, faster.
My Easy Tips To Finding The Right Pain Specialist
Look for a doctor with an active approach who will tackle your pain head-on and aggressively.
Find a practice that has multiple different pain specialties under one roof, so referrals are quick.
Make sure you get on with your doctor and like their approach. You are going to be working with them for a long time.
A personalized treatment plan is essential. Check that you are not just getting the same treatment handed out to everyone in the practice.
Start with realistic expectations of where you are and where you can be.
Search for a board-certified doctor or practice with board-certified physicians in it.