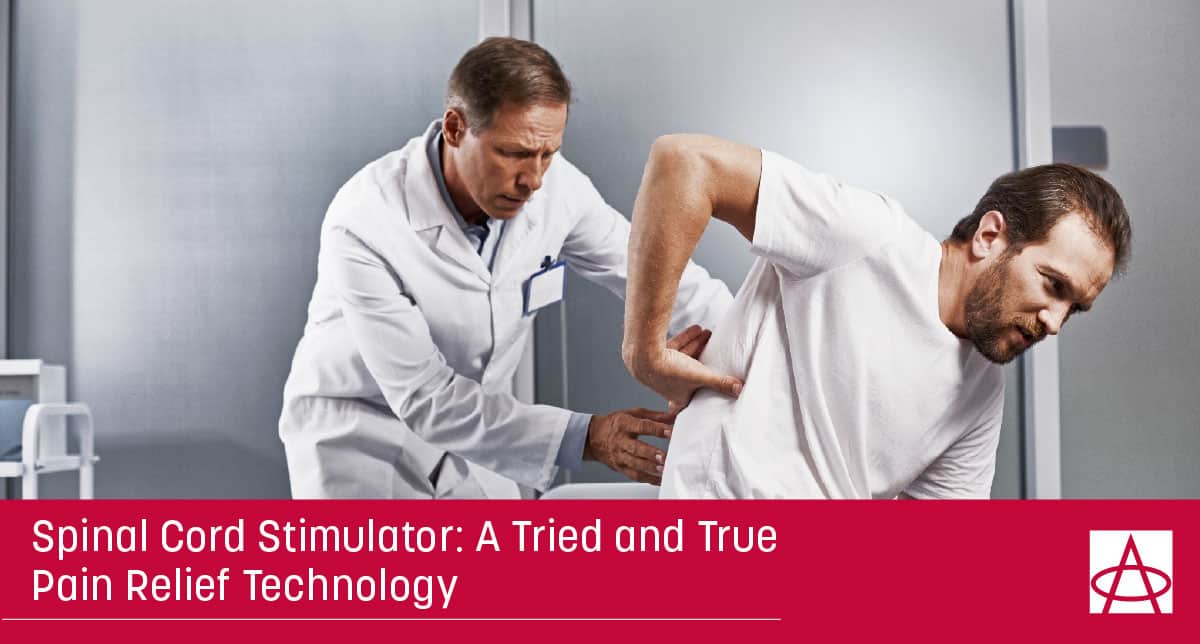 Spinal Cord Stimulator: A Tried and True Pain Relief Technology
By Dr. Ryan Michaud
The spinal cord stimulator may sound like a newer technology, but it's actually been around for many years. The first documented use was in 1967.
Like many technologies of that era, the spinal cord stimulator has improved dramatically over the years — even within the past three years. It continues to be a safe, effective treatment for helping patients with chronic pain syndromes.
Here are some answers to your most frequently asked questions about the spinal cord stimulator.
How Does the Spinal Cord Stimulator Work?
The spinal cord stimulator blocks pain signals that are sent to your brain. It's placed in the epidural space, which is outside of the spinal cord in the same location where we would place a labor epidural. 
Small, thin wires — called leads — are inserted along your back through a small incision.
A small pulse generator — called a stimulator — is attached to the leads. The stimulator creates tiny pulses of electric current, which blocks your pain signals.
Outside of your body, a remote control allows you to adjust the strength of the current so it accurately blocks your pain.
It's a minimally invasive, outpatient procedure. In fact, we can implant a temporary stimulator for a trial run. You can test it out before deciding whether you want the semi-permanent version implanted.
How Has the Stimulator Improved?
The minimally invasive technique of implanting the stimulator has remained pretty much the same. The technological advancements have focused on the stimulator itself.
In the past, there were instances of scar tissue forming around the leads. You would have to increase the electric current to try to overcome the impedances that the scar tissue created.
Then you would get uncomfortable stimulation, like a light tingling sensation in your painful areas. Some patients said it felt similar to a TENS unit. These older stimulators used tonic stimulation.
The improved stimulator relies on burst stimulation. It delivers groups of electric pulses at a higher frequency and at amplitudes much lower than tonic stimulation.
You can still adjust the strength of the electric current but without any of the previous side effects.
Additionally, the electric field is expanded so it can capture more of your painful areas, which has resulted in improved outcomes for patients.
The stimulator continues to work for our chronic pain patients.
If you have an older stimulator and you want to try the newer version, a full replacement isn't necessarily required. In many instances, we can simply pull out the old stimulator battery and replace it with the newer battery, and you're able to reap the benefits of a newer system.
Who Can Describe Their Personal Stimulator Experience to Me?
You can ask our Patient Ambassador, Chester Jones, what his experience was like. What you might not know is that APC's founder, Dr. Mark Malone, was also a stimulator patient. And I was the one that performed his trial procedure and final implant.
Related: How APC's Founder Achieved Pain Relief with the Spinal Stimulator
Mark is a pain physician who previously suffered from chronic back pain. He relied on pain medications after numerous failed procedures. He finally decided to try the newer stimulator technology and he trusted me to do it.
I'm glad I did it for him and it's working out great for him. He's boating and doing all these things that he couldn't do before.
I think he's probably one of the best sources you can have — a pain physician who has experienced debilitating pain and the relief from a stimulator. And now he performs those life-changing procedures for his patients.
How Do Patients Respond to the Stimulator?
Like most medical procedures, it varies from patient to patient. I frequently hear my patients getting great relief with the trial, to the extent that they're no longer dependent on any of their pain pills. That's how great it can help some patients, but it does vary.
The great part about doing a trial is that it's easy. I always use the example that it's like performing a labor epidural. We also are able to give you full sedation during the procedure.
To help facilitate the whole process, we have a dedicated staff that we call our spinal cord stimulator navigators, or liaisons. They meet with you to address any concerns or questions that you have. They're always available to you — 24 hours a day, seven days a week.
How Do I Know if I'm a Candidate for the Stimulator?
First, set up an appointment. If you have pain, come see us and we'll discuss your options with you. The stimulator is just one of several options we can offer.
In the past, if you had back pain, you'd probably go see a back surgeon. But nowadays, your thinking process should be that if you have back pain, go see the pain doctor, because we can do so many different things to address your pain. Hopefully, you don't ever need to have surgery.
Related: Learn More About APC's Specialities
So again, come see us and talk to us first. We'll listen to you and focus on your major concerns. Then we'll perform a clinical exam and review some imaging. Using all that information, we'll create your plan of care.
Theoretically, we could use the spinal stimulator to help anyone with any chronic pain condition — failed back and neck surgery syndrome, complex regional pain syndrome, certain neuropathies, peripheral vascular disease, limb ischemia, and unstable angina.
Any of those particular conditions can happen at any age, to any population.
Even pediatric patients — I use that term for anyone under the age of 18 — could have crush injury to their limb or multiple surgeries that create complex regional pain syndrome. They could definitely benefit from a spinal cord stimulator too.
But sometimes we are limited by what your insurance will approve. That's one reason why we offer effective alternatives to the stimulator.
For instance, if you have a disc herniation, we can do a series of steroid injections right to that area, and that shrinks the disc back and then you're fine and don't need surgery. There can be secondary myofascial pain, the muscle pain, and that area needs to be addressed with physical therapy.
Of course, dealing with any type of chronic pain is debilitating and depressing, so we have on-staff behavioral health psychologists that I always have my patients see.
Why Did You Pick APC, and Why Should I?
I began my medical career as a nurse before becoming a physician.
I heard a saying once that "nurses care and doctors cure" — but I didn't think those should be mutually exclusive. My time spent as a nurse fostered my desire to become a compassionate physician.
APC's approach to patient care is one reason why I joined — we have a comprehensive, multidisciplinary approach that ensures you get the best care.
Everything we do is based on literature with proven outcomes, from medication management to performing different procedures. We offer physical therapy, referrals, behavioral health support, rheumatology, even in-house addictionology. I think that makes us a great option for our community.
Another reason I joined APC? Dr. Mark Malone is a great guy and a great boss to work for. He's caring and compassionate. I'm very happy to be here.