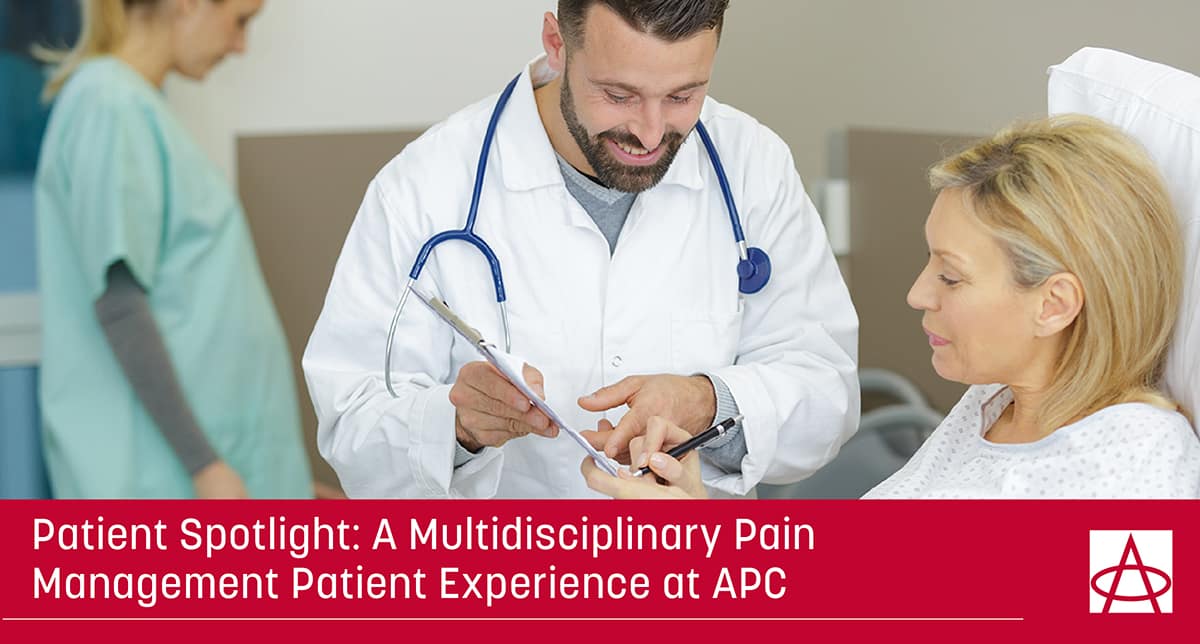 Patient Spotlight: A Multidisciplinary Pain Management Patient Experience at APC
By Hope Piper
I made the switch from my previous clinic to Advanced Pain Care about ten years ago and it's been one of the best decisions I ever made. Back in 1998, I was in a serious car accident and my back has never been the same. I was in a lot of pain when I first visited an orthopedic surgeon, who suggested pain management.
At my previous clinic, the treatment plan revolved around medications. There weren't many other options offered to me and I got the sense that they weren't truly interested in getting to the bottom of why I was experiencing pain. I was just a number, one of a series of patients whose symptoms they treated to the extent necessary to keep them coming back. Not to sound cynical, but it was exhausting.
Even more frustrating, if I needed any additional treatments, I had to be referred to a new specialist at a different clinic. I was constantly bouncing around, waiting for my files to be transferred, and fighting with the pharmacy to get my prescriptions filled.
Chronic pain is already a curveball and it can disrupt the normal functions of your everyday life. Throw in waiting for a call back from new doctors and traveling to new locations, and there's even less time and energy to focus on yourself.
The Switch To a Multidisciplinary Pain Clinic
When I switched to APC, I never looked back! It's been a very different experience and one where I feel that all my needs are being met. Instead of focusing only on the pain as a symptom, the practitioners at APC are searching for ways to treat it at the source. They try to keep me out of pain, of course, but they're also looking for alternative treatments and ways to cut down on the amount of medication that I have to take. With the opioid crisis sweeping the nation, I am so happy to be at a place where my doctors care about minimizing that potential for harm. Pain medication might have to be something that I take for the rest of my life, but my doctors at APC are always moving towards the goal of lessening the amount I have to take and moving me away gradually.
It's for that reason exactly that Dr. Harper suggested I try a spinal cord stimulator. It's an implant that sits near my spinal cord and sends out low levels of electricity that disrupt pain signals before they reach my brain. It has made a huge difference in my quality of life. I can control when the implant is off or on and adjust to the severity of my pain. I can set it to a nice tingle sensation if my pain is particularly bad, which distracts me and helps cut down on the severity of the pain.
At first, I was nervous about the procedure, but everyone at APC worked to make me feel confident and empowered about the process. They gave me all the information and told me how it could make a huge difference in my everyday life. They told me what to expect from the procedure and the recovery process. The procedure itself was so easy! It was an outpatient surgery and very non-invasive. It was also a quick recovery process.
How APC Streamlines My Medical Care And Reduces My Stress
Another great part about APC is how centralized everything is. I can see my pain management specialist, my rheumatologist, my orthopedic doctor, and my neurosurgeon all in one place. When they need to prescribe me a new medication or refill an existing one, they can send a quick message to the in-house pharmacist. It's so much easier than the other clinics and doctors I have seen before.
At previous clinics, I was always bouncing around between locations and specialists. As anyone who lives in Austin knows, the roads just can't keep up with how fast the city is growing! I'd end up stuck in traffic forever, always commuting for an appointment with a new doctor. Each new referral presented a whole new set of annoyances. I'd have to wait a few weeks to even be seen and they'd never have all of the information in my chart.
Now, I can just head up the road a few minutes and I'm at APC's Cedar Park location. Most likely, everything I need is at that location. It's so convenient and doesn't eat up the bulk of my day. Even if I do have to head to APC's primary location in Round Rock, I know exactly where it is and that they'll already have all my records and information waiting. Plus, I never have to wait to schedule an appointment. My doctors can usually see me right away.
Going to Wal-Mart for a prescription refill can be like fighting your way through a mosh pit. They don't have all the information they need and can't see the backend of why you've been prescribed this medication and what your history is like. I end up waiting for records to be transferred or for my insurance to clear the medication. It throws a wrench into your day! At APC, there's none of the confusion. They have all the records and authorizations they need at their fingertips and I never have to wait.
The communication at APC is another huge bonus. I've never had to wait for a long period to get a call back from a doctor. I always get a call back that day when I have to leave a message, and usually, I don't leave a message at all, I'm just connected with whoever I need to speak to.
It's surprising how much stress this cuts out of my life. With everything in one place and streamlined, I don't feel like I have to fight or be constantly advocating for myself just to get what I need. The team at APC has my best interests in mind and I trust them to do what's right! I don't feel like a number at APC. Everyone knows my name and is invested in how I'm doing, both medically and in general! There's more of an emphasis on whole-body health, including mental health, which makes a big difference.
I had a major stomach surgery during my time as a patient at APC. Although APC doesn't work with gastroenterology and GI problems, they kept abreast of what was going on and how I was doing. They noted it in my file and made sure to check in with me. After the surgery, I couldn't eat for a while. They were great about making sure I was on the right medication that would work with the recovery process and not aggravate my stomach. It was so meaningful to me that they cared about me beyond the issues they were treating me for. They cared about my whole health!
Pain Management Doesn't Have To Be Hard!
To anyone out there who's struggling with chronic pain and stressed out by the barrage of new referrals, prescriptions, long wait times, and communication issues, it doesn't have to be that way! Pain management should be easy and low-stress.
As someone with chronic pain, treatment and management is a continuous part of my life. It's part of the routine. It shouldn't be a source of stress and frustration. I'm so happy that I made the switch to APC.