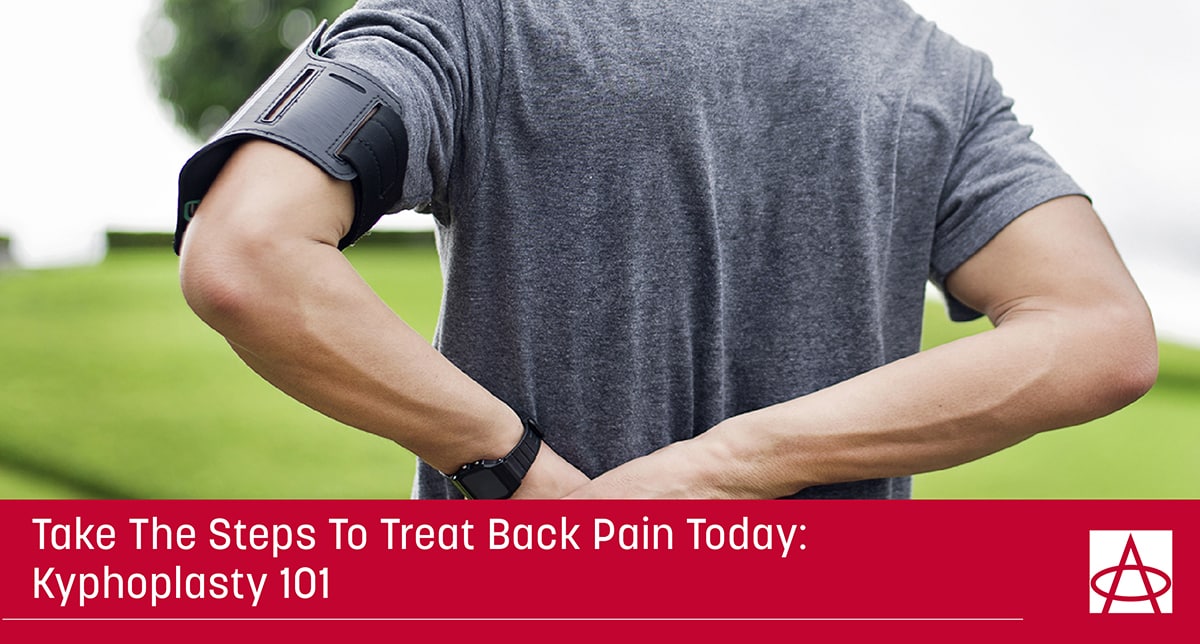 Take The Steps To Treat Back Pain Today: Kyphoplasty 101
By Victor Taylor, M.D.
Pain is the most common reason a person goes to see their doctor and spinal pain is one of the most prevalent complaints seen. There are multiple causes of spine pain and treatment can range from over the counter medications, physical therapy, chiropractic care, interventional techniques or surgery. Understanding the underlying cause of your pain is essential to developing the right approach to treatment.
A common cause of spinal pain in patients over fifty is compression fracture.  A compression fracture occurs with a spinal bone partially collapses.  This is most common in patients with osteoporosis or thinning of the bones, although it can occur with metastatic disease or severe trauma.
A compression fracture can be very painful and even make it difficult to engage in physical therapy or activities of daily living. For many patients even strong pain medications are inadequate.
Compression fractures usually present as a sudden onset of pain in the region of the spine, with muscle tightness and often a feeling like a 'band of pain' a few inches wide wrapping around one or both sides of the body at the level of the fracture. This type of fracture often occurs with very minor trauma such as lifting something heavy- even getting a Thanksgiving Turkey out of the oven, or a minor fall.
If a compression fracture is suspected your doctor will order imaging- usually an x-ray initially and may prescribe pain medications and a brace to help stabilize the area. If the x-ray shows a fracture further imaging such as an MRI or a CT and Bone scan will be performed.
If diagnostic imaging reveals an acute fracture then this may be treated with a procedure called a kyphoplasty.
Kyphoplasty is a minimally invasive outpatient procedure that can be very effective in treating pain from a compression fracture. A kyphoplasty is performed by a specialist well trained in minimally invasive x-ray guided procedures. Typically, the procedure takes only 15-20 minutes and most people are either pain free or nearly pain free when they wake up from sedation.
Under fluoroscopic x-ray guidance, your doctor will guide a trocar into the broken bone/vertebrae. Once the trocar is in place a special type of balloon is inflated to create a space. The space is then filled with a special fast hardening resin that stabilizes the fracture and eliminates the pain.
The entry point for the procedure is usually closed with dermabond/skin glue- not even a single stitch is needed. After spending about 30 minutes lying flat in the recovery area patients are ready to go home.
Not all compression fractures are treatable by kyphoplasties. Some fractures are too unstable or are so badly compressed that the procedure would not be appropriate.
Because compression fractures occur due to thinning of the bones it is possible to have a new compression fracture in a different vertebra later. Any new fracture can usually be treated in the same minimally invasive way.
The doctors at Advanced Pain Care are experts in the use of interventional techniques performing thousands of procedures every year including kyphoplasties and will be able to help get your pain controlled even if it is caused by something other than a compression fracture or if you have the kind of fracture that can not be treated by kyphoplasty.
At APC, we have some of the best and brightest, not only in the Southwest but the country as a whole. All of our doctors are fellowship-trained and board-certified. They have years of experience and are truly committed to staying on the cutting-edge of their specialties.
At APC, you can be sure that you'll be cared for before, during, and after your procedure. We want to help you get control of your pain and take back your life. Through the use of interventional techniques, surgery, medication management and rehabilitation we can help. The Pain Stops Here!
If you have suffered a compression fracture we can help.  If you have chronic pain related to the spine or nerves, even if you have failed to get relief in the past, reach out to Advanced Pain Care in Amarillo, Waco or Austin.  There have been tremendous advances in understanding of pain.  New technologies and improvement in techniques.