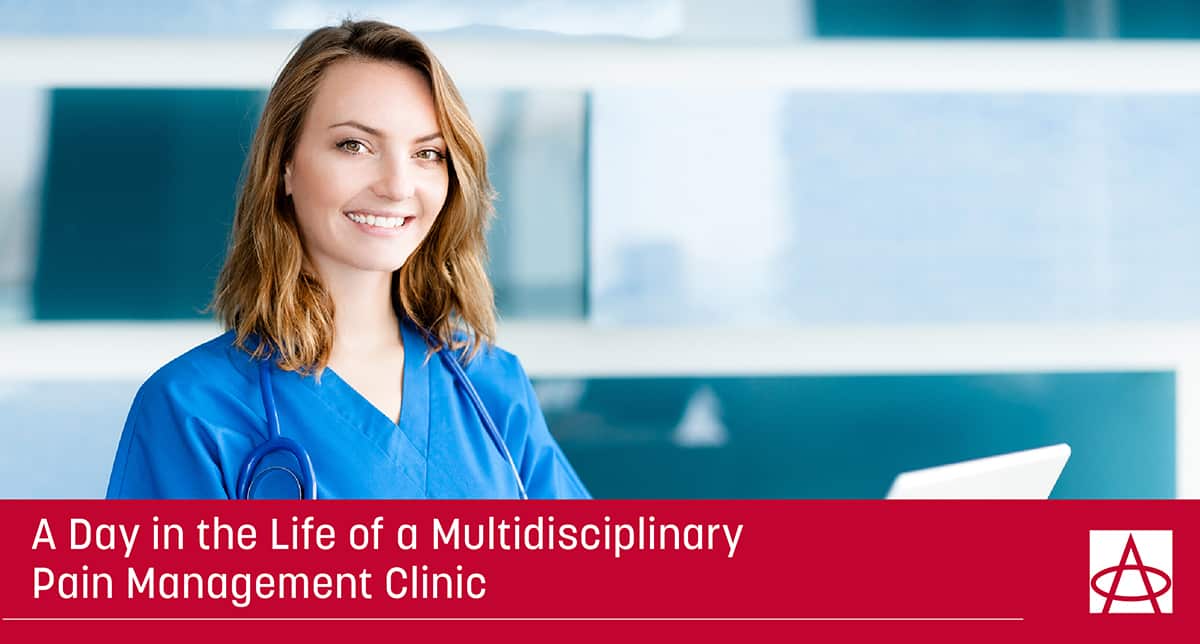 A Day in the Life of a Multidisciplinary Pain Management Clinic
By Summer Urbanczyk, Chief Nursing Officer
As APC's chief nursing officer, I currently manage clinical operations for our outpatient surgery centers. I oversee all of the clinical day-to-day, as well as our anesthesia department within our surgery center. I manage the schedule, staffing, and approving procedures. At one surgery center alone, we do about 1,200 procedures a month, so managing all of these moving parts can get challenging!
However, before I was on the administrative side at APC, I was a nurse practitioner. As someone who's seen both sides of the clinic's operations, I'm in a unique position to appreciate what sets APC apart. In both of these positions, how I feel about APC hasn't changed.
A lot of chronic pain disorders are complex and they affect many different body systems. Having all the specialties that APC does under one roof is more realistic and appropriate for what many of our patients are going through. Instead of only being able to treat one or two things, we can diagnose, treat, and manage a diverse range of disorders, without having to leave our clinic system.
The multidisciplinary pain clinic model is well-equipped to handle complex chronic pain disorders and to nimbly explore and settle on the best treatment plans. It increases the quality of life for patients dealing with chronic pain, saves them time, and streamlines their treatment process.
Enjoy this peek behind the curtains of the day-to-day operations at APC's surgical outpatient centers, and get a sense of the culture of collaboration and care that animates everything we do.
Where The Rubber Meets The Road: The True Benefits Of Being A Multidisciplinary Pain Management Clinic
There's no better way to illustrate what being a multidisciplinary pain management clinic means than to describe the typical journey of a new patient trying to pin down a pain problem.
If a new patient comes in and says, "My shoulder hurts," they might see an orthopedist. That orthopedist might say, "Hey, a lot of shoulder pain actually originates in the neck. Let me send you over to our pain specialists."
Perhaps the pain specialists have done everything that they can do. At that point, they may send those patients to see a neurosurgeon. However, if the solution isn't necessarily surgical, we've also got an amazing rheumatologist who works on the auto-immune side of several pain disorders, like lupus and rheumatoid arthritis.
In this situation, the fact that we offer same-day appointments really comes in handy. If a patient is going through the process of pinpointing pain and has to see several different doctors, oftentimes providers just walk them across the hall to see their colleague in a different specialty.
Instead of driving around to different locations, setting up appointments way off in the future, and having to transfer records to new clinics, we've got everything set up in one place for our patients. They don't get lost in a big corporate system, because we're able to keep our patients within this one clinic system and treat multiple issues all under one umbrella.
Even our phone system is streamlined and built to be user-friendly. Usually, you'll get to talk to a real person whenever you might call. If you do have to leave a message, you'll often get an immediate response back. It's the small details like this that make the patient experience so much easier and less stressful at APC.
Communication And Collaboration Amongst Our Care Providers
On a day-to-day basis, at the surgery centers, I see many of our providers comparing cases and discussing treatment plans. There's an atmosphere of trust and openness amongst our care providers, and they know that they can all learn from each other, especially from doctors working outside their own specialties.
We have monthly provider meetings, where providers can get together and discuss their patients and ask for feedback and advice from their peers. There are also monthly case review sessions, where doctors may discuss a patient who presents with something very unique, or maybe something a little more complex. They present these cases and have an open discussion about the best courses of treatment.
All of these situations provide our doctors with the opportunity to continue their education, learn from each other, and contextualize what they see outside of their specialties. It's a huge part of what makes us multidisciplinary and so unique. This level of communication and collaboration is rare in the clinic world, and many of our doctors say that it's what they love most about working at APC.
However, beyond the providers, communication is great for patients. At APC, doctors consider all the possible treatment paths, get second and third opinions, and consider routes outside their strict specialties.
Building Lasting Patient Relationships
At APC, we often get the chance to build longer-lasting patient relationships with folks who come in our doors. Many patients have routine procedures and see their providers manage chronic pain conditions regularly. We like to think of these patients as the APC family and get to know them a little better when we can. I love learning about a patient's family, what they do, and what they love to do when they have time off to relax.
Chronic pain can be alienating and impactful on your mental health. It can be easy to feel alone in your experience of chronic pain, or even helpless. At APC we empower our patients, and let them know that they aren't alone.
I truly believe that patients at APC are cared for in a holistic sense, not just physically and medically, but supported emotionally and as a whole person. Our mental health care and opioid stewardship programs are critical to this level of care.
Most pain management clinics don't offer these programs, but we believe that they're critical for the kind of support and care that we aim for. Chronic pain management doesn't end at medicine or surgery, and so a pain management clinic shouldn't either.
A Good Place To Work Makes For A Better Pain Management Clinic!
Some of our nurses at our surgical centers have been with the clinic for over 10 years, since the very beginning of APC. We're proud of that because it shows how our providers are fully committed to the work we do. My colleagues love working at APC, and in turn, that love translates into better quality medical care.
Now that you've learned more about what it's like to work at APC and operate our surgical centers, I hope you'll feel more comfortable and informed. If you come into APC, you can be sure that you'll have some of the best care around.