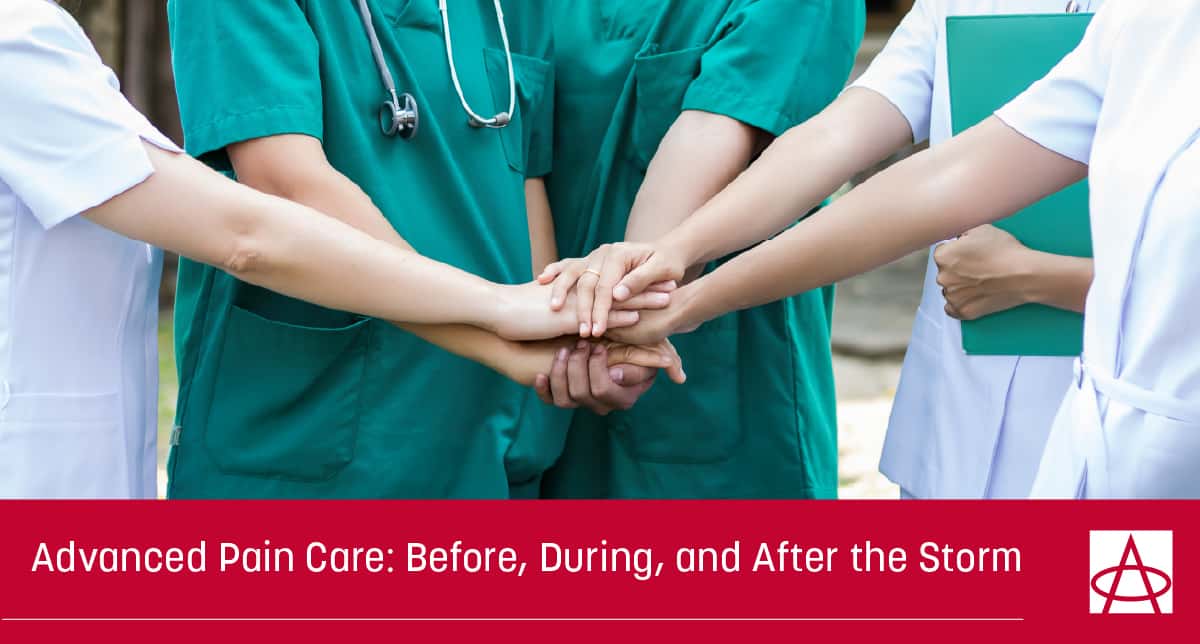 Advanced Pain Care: Before, During, and After the Storm
By Chelsea Simon
President's Day weekend was just supposed to be a four-day weekend. But when the President's Day storm started knocking on the door, it was going to take a little longer to get back to "normal…"
The problems from the storm went beyond the lack of transportation. We'd been doing that since March of last year, and had gotten quite accustomed to limited social interaction. It was the lack of power and clean water which affected our patients, our doctors, and our facilities, as well as millions of people around the state.
Though we got pretty lucky in the grand scheme of things, there's still a lot of clean-up that has to happen after something that forces the offices to close, and other businesses that we work with that were still picking up the pieces even after we'd opened back up.
How We Tracked the Storm
Typically at Advanced Pain Care, we follow the ISD (Independent School Districts) for our locations, so as schools start closing, or if they switch to all virtual due to the weather, then we switch to virtual. A lot of the schools canceled Thursday afternoon and then started canceling for the day. So, at that point, on Friday, we closed all of the locations whose ISDs had closed or gone virtual.
After the President's Day four-day weekend, we gauged everything on how the managers of the different locations felt about closing. We went off by the weather, watched the news, and planned to go virtual until we realized that so many people had lost power– including our doctors– that it wasn't possible.
When it came time to actually close the offices, we canceled appointments at the clinic a little sooner than we did the surgery schedules. For us, clinic reschedules are easier, because if the power did come back on but it still wasn't safe to drive, we could do TeleMed services. But with surgeries, there's really no way around being in person for that, so we left them alone until the last minute when we knew we absolutely couldn't come in because of the weather.
Related: What to Expect at a Pain Management Clinic
How We Worked During the Storm
The biggest problem that we saw during the lack of transportation and power due to the storm was with medication.
With pain care and pain management, a majority of our patients are on medications that cause withdrawal and other issues if they don't have them at a certain time. We ran into some issues with that, especially since the state requires that everything is electronic, like scripts and other records, so we couldn't access their files any other way. At its worst, we had only around ten employees that had power, so had to figure out how to get the patients what they needed amidst the storm, as those medications were critical for them and had to be taken on a schedule.
Our doctors with power were manning the pain care patients, and primarily the ones who needed medications filled rapidly. For the time being, they'd try to get them a bridge medication to help get them through the week (or however long the storm would be), until they were able to get back to their original medications. 
The problem was that even when we were able to send out prescriptions, many pharmacies were either closed, didn't have power, or weren't getting their shipments on time because of the roads.
My practice administrators filled in a lot of after-hour calls, most of them being patients requesting to switch medications to a different pharmacy because theirs didn't have what they needed in stock. They really worked tirelessly for our patients to ensure they had access to everything they needed to keep them from having any rash side effects while the storm was coming through.
As far as communication, patients were trying to get through to us in every way they could– even through Google– and at the end of the day, we were just as frustrated as they were. Most of our executive teams were working entirely from their cellphones, trying to manage what was possible through emails and text. Our patient access team was also trying to stay as helpful to the patients as possible while the phone systems were down, answering their questions, and ensuring that all of their high-priority needs were being taken care of.
The Aftermath of the Storm
Since we'd had a full schedule during the storm– which we'd canceled– we needed to fit all of the patients into the next week, along with the previously scheduled patients. That meant two full weeks of schedules squeezed into one week, which was certainly a challenge!
Before our reopening, our facilities engineer manager went up to our Round Rock location to check out if there was any damage.
Busted pipes. Toilets were overflowing; it was a mess.
Luckily, we have some good connections and had plumbers in the next morning to clean everything up. By Monday, we were back up and running! As far as our other clinics, we were blessed to not have any major issues, so we were able to hop right back in and pick up from where we left off (just now, with double the number of patients!).
This wasn't the same with a lot of other facilities and businesses. Though we got lucky, a lot of others weren't. Many suffered from water damage, and an extended period of no electricity. According to CBS News, many hospitals were intaking patients for exposure to the cold and carbon monoxide poisoning, as many were trying to keep warm in their cars.
I think the level of customer service we have with our patients as well as the dedication of our staff shows how we're able to be of service to our patients. My managers and medical assistants were really running the show the entire time and basically taking hold of all of the patient's situations as places were closed. I myself didn't have power the entire week, so most of my communication was off of my cell phone.
Related: Stay Safe, Stay Healthy and Use Telemedicine to Manage Your Pain during COVID-19
Between our patient access team and our marketing team, they did a tremendous job managing everything during that week. The three that I had on my patient access team worked all day, all night during the week, just answering text messages. And we were getting nearly 600 texts a day!
My marketers were amazing at staying on top of all of the messages on Google, Facebook, and Instagram. They'd reach out to one of us if they got a question they couldn't answer, so they could give the patients an easy answer so our patients wouldn't be discouraged. I think it's definitely something that we've always been strong at; doing our best to make sure patients are always informed of what's going on. We wanted to treat our patients with the same care that we would if they were in person, and hopefully, at least some of them got the message while we were trying to answer their questions and maneuver the technological deficits we were working with.
Since then, we've been happy that things have been running normally (well, in the COVID world).
Knowing that I have a team behind me that's ready to hit the ground running when crisis strikes remind me how grateful I am working at Advanced Pain Care!