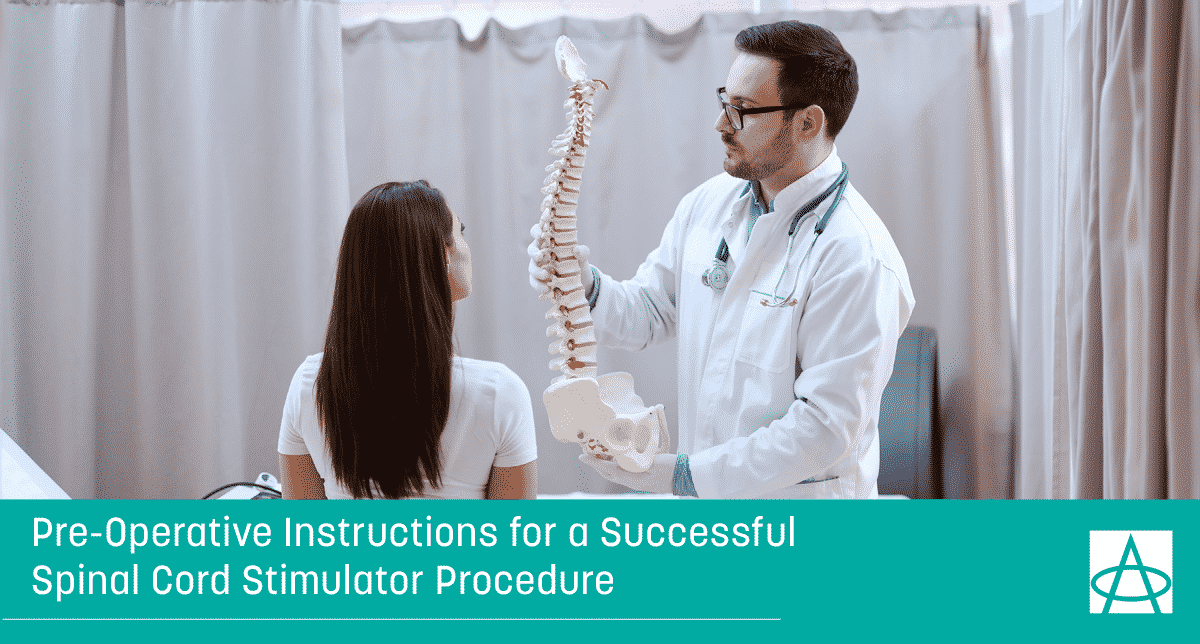 Pre-Operative Instructions for a Successful Spinal Cord Stimulator Procedure
By: Dr. Glenn Harper
For years, as a spine surgeon, we relied on moderate to big spine surgeries to fix back pain.
Certainly, there are moments that indicate surgery is a better option, but sometimes invasive procedures are prescribed because there isn't much else to offer. Some fusions don't have the success rate that many hope to see. In fact, spinal surgery patients can suffer from failed back surgery syndrome (FBSS), a condition characterized by persistent or increased pain or sensation after spine surgery.
The spinal cord stimulator is changing the landscape, not just for chronic pain patients but also for those who are also experiencing FBSS pain and living a limited life. If you're considering a spinal cord stimulator procedure or having one soon, here's all you need to know to prepare and have a successful operation.
The Trial Period
One of the amazing things about a spinal cord stimulator is that it's one of a few medical technologies that you can test run before you decide to move forward with the surgery. From experience, we see that the vast majority of patients have an excellent response to the stimulator, while a small percentage don't find much relief. It's a huge benefit to know how a patient will respond to the technology before inserting a permanent implant.
For the trial, in a small outpatient procedure, your pain doctor will place two small leads in the mid-portion of your back. The leads are attached to an external box that functions exactly like the implantable device. A representative from the spinal cord stimulator company programs the box based on your specific chronic pain needs.
If you get considerable pain relief and decide that you want the permanent implant, your doctor will set you up with a spinal cord stimulator surgery.
Related: Treating Your Chronic Back Pain With a Spinal Stimulator
Pre-Operative Instructions For Your Spinal Cord Stimulator Procedure
Your doctor will decide whether a percutaneous lead or a paddle lead will be the best fit for your pain. The majority of spinal cord stimulators are percutaneous. However, your doctor may prescribe a paddle lead if excess scar tissue or anatomical barriers is preventing a percutaneous lead.
Regardless of the type of spinal cord stimulator you receive, it's an outpatient procedure done under general anesthesia. The implants are anchored down in a midline incision in your back; then, the wires are run under the skin to a small pocket your surgeon will make on the side of the back or in one of your glutes. The device, or implantable pulse generator, is placed in the pocket and connected to the wires. Then both incisions are closed up and covered.
The Week Before Your Procedure
You will get a packet of information from your doctor with more information about the procedure and a detailed outline of all the things you need to do to get ready. The main thing to do at this time is to stop any form of blood thinners, whether they are prescribed or over-the-counter, like ibuprofen or Aleve. Stopping blood thinners will ensure there is no excessive bleeding during your procedure and prevents blood clots from developing around the spinal cord.
At this time, your doctor will also recommend preparing your house for your recovery. There are certain movement limitations like twisting and bending, and you want to ensure you can still function properly at home without those activities.
The Night Before And Day Of Your Procedure
Since the spinal cord stimulator procedure requires general anesthesia, refrain from eating anything heavy at dinner. Do not eat or drink anything after midnight or the morning of your procedure. Some medications are OK to take in the morning with a sip of water but check with your doctor before doing so. An empty stomach will ensure there will be no complications with the anesthesia while you are under.
The entire procedure lasts anywhere from 30 minutes to 90 minutes. After your spinal cord stimulator is implanted, you will be taken to the post-anesthesia care unit for anesthetic recovery. Once you wake up, the stimulator will be turned on, and your physician will make sure that your pain is under control.
From there, you're free to go home!
Rest, Relax And Heal At Home
Your doctor will send you home with information about post-operative protocols for your spinal cord stimulator implant. In general, you will rest and relax for two weeks, avoid getting your incisions wet, vigorous activity, bending, lifting, and twisting. Any lingering pain is typically from the incisions, which can be managed with ice and a short-term pain prescription. If you are not receiving relief from your chronic pain, call us anytime so we can get your device re-programmed.
For a deeper dive into the recovery period and post-operative instructions, please read our post-op instructions.
Related: Recovering From a Spinal Cord Stimulator Implant Procedure
After 26 years of experience putting in implants for patients, spinal cord stimulator research, and technology has exploded the past ten years. Now more than ever, we see incredible advances in the power for this small outpatient procedure to provide incredible, long-lasting relief to patients who were previously crippled by chronic pain.
Read some of our patients inspiring spinal cord stimulator success stories:
As research continues to advance the procedure, technology, and programs, more and more patients that were previously stuck have found the liberation that you may be looking for.
We'd love to help you see if this technology can benefit you. Book an appointment with one of our pain care specialists to learn more about a spinal cord stimulator trial.