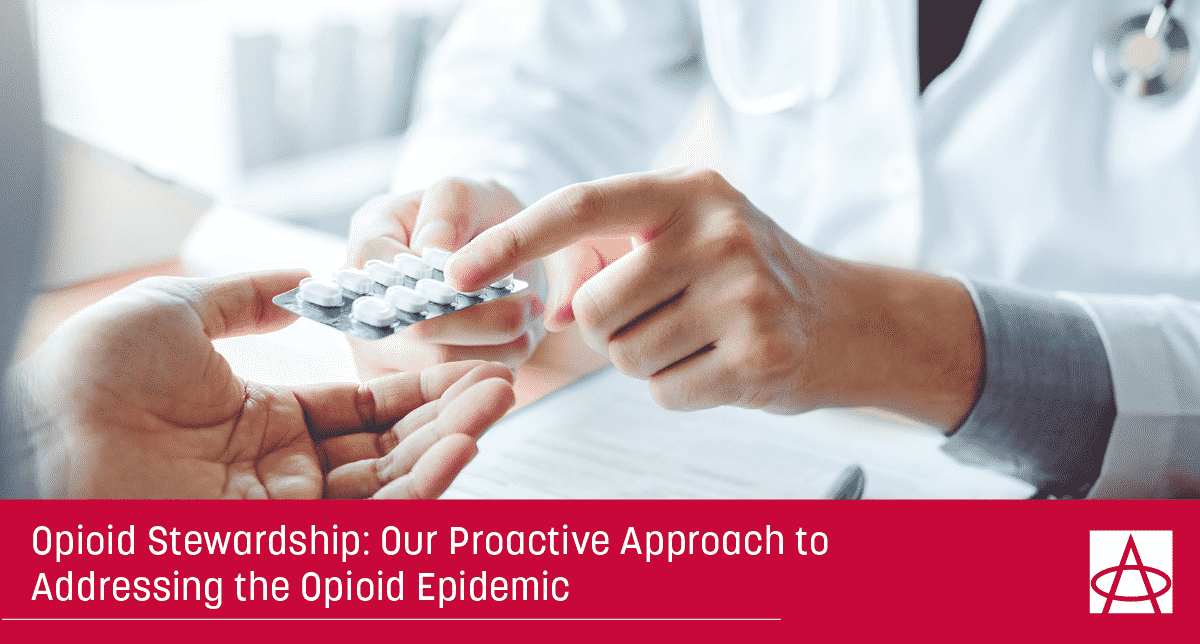 Opioid Stewardship: Our Proactive Approach to Addressing the Opioid Epidemic
By Dr. Andre Chen
The growing opioid epidemic lies between two major intersections: reducing the suffering of chronic pain patients and reducing the risk of opioid addiction. Our successful opioid stewardship program delegates the appropriate use of addiction management to improve patient outcomes and reduce the complications of opioid therapy.

Good Intentions Lead To The Prescription Opioid Epidemic
Beginning in the mid-1990s, US health practitioners gradually increased the use of prescription opioids with a good intention to help manage a crisis of untreated chronic pain and provide better access to pain control, often for cancer or at the end of life.
Before that, doctors used opioids sparingly to treat chronic pain due to fears of addiction and overdose. In the mid-1990s, there was a desire to address the issues of untreated chronic pain. Physicians, pharmaceutical companies, and hospital systems sought to improve access to opioids. This led to a significant promotion of their use for chronic non-cancer pain.
In many ways, the current opioid epidemic we're experiencing came with good intentions to help those who were underserved and undertreated. Over time, though, physicians saw the significant risks and repercussions of making opioids widely available such as misuse, withdrawal symptoms, addiction, and even overdose death.
In response, physicians began reducing the use of prescription opioids. However, this has made it much more difficult for chronic pain patients to obtain medications that they may have become dependent on.
The US Is Currently Dealing With An Illicit Opioid Epidemic
Simultaneously, illicit opioids became more available to meet demand, which precipitated a second and third wave of the opioid crisis related to heroin and illicitly manufactured fentanyl. We are still managing the consequences of the illicit and dangerous opioids that can be found in heroin, illicitly manufactured fentanyl, and counterfeit pain medications.
Regulations At The State And Federal Level Are Curtailing The Epidemic
Almost every state has a prescription drug monitoring database that tracks prescriptions for controlled substances dispensed by a pharmacy. Prescribers are required to check the database to confirm that patients do not receive multiple prescriptions from different sources.
In addition, there are prescribing limits for opioids for acute pain. For example, in Texas, there is a 10-day limit for acute pain prescriptions such as injuries or after surgery.
State medical boards have strict regulations regarding the prescribing of opioids to treat chronic pain. These requirements include written pain management agreements, urine monitoring, pill counts, prescription database checks, using opioids as a last resort, and evidence of functional improvement.
Regulations Make It Harder For Patients That Do Need Prescriptions
Though the regulations are meant to prevent problematic opioid use, patients that do require medication are inevitably affected. Many practitioners avoid prescribing opioids even if they are deemed necessary.
How can we address, treat, and empower chronic pain patients who rely on prescriptions for effective treatment without contributing to the current epidemic?
Promoting Opioid Stewardship
Opioid stewardship is a multi-disciplinary program to promote the safe and appropriate use of opioids in a way that improves patient outcomes while reducing the risks of opioid medications.
These programs focus on identifying patients at higher risk for adverse problems with opioids due to coexisting medical conditions, concurrent medications such as central nervous system or respiratory depressants, or concerning behaviors they exhibit during treatment with opioids. Examples of coexisting medical conditions include chronic liver disease, chronic kidney disease, psychiatric conditions, respiratory conditions, and history of substance use disorders. Examples of concurrent medications include benzodiazepines, gabapentinoids, and muscle relaxants.
Sometimes patients are referred to opioid stewardship programs because they have been treated with high doses of opioids or high-risk regimens and have lost access to their prescribers. These legacy pain patients are at high risk for severe withdrawal, self-harm, or exposure to illicit opioids. There have recently been high-profile celebrity overdose deaths attributed to unknowingly ingesting counterfeit opioid pills.
Opioid stewardship emphasizes conscientious dosing of opioids, utilization of non-opioid modalities, monitoring the effectiveness of medication regimens, coordination of care among prescribers, monitoring for red-flag behaviors, and tapering of opioids when possible.
Our Opioid Stewardship Program Makes A Commitment To Safety
All patients at Advanced Pain Care who are receiving opioids or other controlled substances undergo thorough screening before being prescribed medication. Extensive medical histories are collected. Opioid risk is evaluated using validated screening tools. Medical records are requested. Urine toxicology is collected. State prescription monitoring databases are checked. Thorough physical examinations are performed. If necessary, behavioral health evaluations are requested. Previous experience with non-opioid treatments is reviewed.
Once a patient begins treatment, progress is monitored monthly. Adherence to treatment plans is monitored by reviewing the prescribing database, random urine testing, and pill counts to ensure compliance and safety. We also receive input from family members, friends, other health care providers, and pharmacies to see if the patient has improved functionality or if problems are arising due to the medication regimen.
If red flags arise during treatment, patients can be referred to our opioid stewardship program for additional evaluation and care. We never abandon any patients. Our Opioid Stewardship program aims to stay engaged with an at-risk patient, avoid cutting them off from treatment, and avoid adverse outcomes. Terminating patients who require more care may solve a problem for the practice, but rarely addresses the patient's issue. Induced abstinence or an unmonitored medication regimen is rarely a safe treatment plan.
In other words, our opioid stewardship program combines chronic care management and addiction medicine — practices that are traditionally separated in health care. You don't have to have a heart attack to see a cardiologist, and you don't have to have an addiction to see an addiction medicine physician.
Once in the program, we stress non-opioid modalities for pain, such as non-opioid medications and non-opioid interventions such as neuromodulation, or spinal cord stimulators, physical therapy, and behavioral coping mechanisms.
Related: How Saundra H. Found Pain Relief With the Spinal Stimulator
One of the different medications we offer is buprenorphine for pain. This partial agonist opioid only partially activates the opioid receptors to provide significant pain relief while reducing respiratory depression and addiction risks. It is used in high doses for addiction and lower doses for pain.
Empowering Effective Pain Management, Not Opioid Misuse
All patients deserve to work with engaged providers to find effective pain management treatments.
One of the most significant gaps in pain management is that we often don't have a place for patients who begin to manifest problematic use of opioids. Often, patients with chronic pain are discharged because they exhibit behaviors that place themselves and the prescriber at risk.
Discharging high-risk pain patients may solve the problem for the practice, but it rarely solves the patient's problem.
At Advanced Pain Care, we have invested in an Opioid Stewardship program that will work with you to manage your medications more safely and effectively and to restore functionality. Chronic pain treatment can sometimes narrow the scope of your life to center around a medication regimen. It's our goal to make your life larger, again.
If you have questions regarding your current pain medications, want to explore opioid alternatives, or are interested in our program, contact us through our 24/7 live chat or book an appointment with one of our specialists.